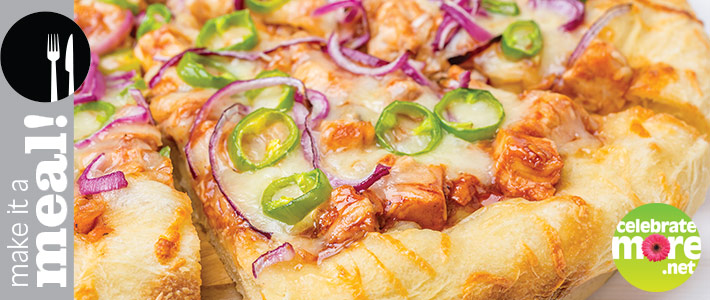 Texas BBQ Chicken Pizza
Ingredients:
2 Tbsp olive oil

3 to 4 (1 pound) Gold'n Plump® Boneless Skinless Chicken Breasts
1/2 green bell pepper, coarsely chopped
1/2 cup onion, cut into thin strips
6 slices bacon, crumbled
1 (12-inch) refrigerated pizza crust
1/2 cup bottled barbeque sauce
1/2 cup coarsely shredded Cheddar cheese
1/8 cup jalepeno peppers, thinly sliced (optional)
Directions:
Preheat oven to 450°F.
Heat oil in a large skillet over medium-high heat. Add chicken; cook, turning occasionally, for about 10 minutes or until chicken is thoroughly cooked.
Transfer chicken to a plate. When cool, cut into 1/2-inch squares.
Add bell pepper and onion to skillet; cook, stirring occasionally, for about 3 to 4 minutes or until tender. Set aside.
Fry bacon in a separate small skillet according to package instructions until crisp. Transfer to a paper towel-lined plate. Crumble when cool.
Spread crust with barbecue sauce. Top with peppers, onion, bacon, chicken, and cheese.
Bake about 8 to 10 minutes or until chicken is warm and cheese is melted.
Recipe adapted from Gold'n Plump Chicken