4 Ways to Use Citrus to Warm Up Your Home This Holiday Season
We love snacking on fresh oranges, but there are some fun, out of the box ways to use citrus this holiday season to warm up your home.
1.) Dried Citrus Holiday Garland
Take orange slices and lay them out on a baking sheet lined with parchment paper. Bake for 3 1/2-4 hours in the oven at 200 degrees F. Flip halfway through. Bake until completely dried.
Once cooled, string orange slices together with twine and decorate your tree or other areas of your home! These dried orange slices also make a great addition to holiday table settings. The kids will love getting involved with making this fun garland!
2.) Stovetop Holiday Potpourri
4 Cups of water
3/4 Cup of Fresh Cranberries
4 Cinnamon Sticks
1 Tbsp. Cloves
Dash of Nutmeg
Simmer on stovetop on low heat or in a crock pot on low. Add water as needed. Your house will smell amazing! Need a gift idea for a friend? Put all ingredients (except water) into a glass gar and add a festive card with instructions.
3.) Freshen Up your Beverage

A light and and refreshing beverage perfectly flavored with holiday flavors and fresh citrus. Turn this mocktail into a cocktail with your favorite alcohol of choice.
Sparkling Citrus and Pomegranate Holiday Mocktail.
4.) Add dimension and flavor to baked goods with orange zest!
Orange zest can add a burst of flavor in a variety of recipes, such as cakes, pies, and breads. One my favorites is adding just a bit of orange zest to blueberry muffins. The flavor pairing is remarkable!
Enjoy citrus this holiday season! Wishing you and yours a warm & healthy holiday season!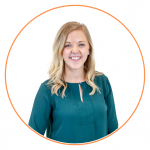 Amy