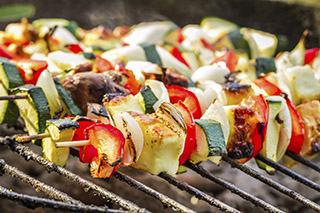 A Healthier Tailgate
Many of us have worked all year long to meet our healthy New Year's resolutions. Don't let tailgates and parties get in the way of your goals. Whether you're hosting a tailgate, packing a cooler or just having a few friends over to watch the game, try these healthy tips to tackle game-day overindulgences.
Plan ahead!
Don't wait until the last minute to plan your food! This leads to impulse choices that may not be the healthiest. Plan a balanced menu that includes all the food groups. You don't want to get stuck with just burgers on the grill, buns and chips – and if you're lucky, maybe a pickle and onions!
Pace your meals.
Don't skip breakfast and dinner to allow for one big game-time meal. This can lead to overeating and is also not beneficial for our blood sugars, energy level or satiety. Start your day off with a healthy breakfast and allow snacks to keep you going and to fight off hunger – which is typically when we find our hand in the chip bag!
Stay hydrated.
Tailgates can include a wide variety of adult beverages and soda. Bring water, coconut water or infused water with you, especially early in the season when it's hot! This keeps you hydrated and less tempted to indulge in caloric beverages. These empty calories can add up quick! Also drink alcohol in moderation – that is 2 drinks/day for men and 1 drink/day for women.
Put a healthy twist on traditional favorites.
You don't have to give up all of your game-day favorites. Just aim for one healthy substitution. Maybe it's making salsa instead of nacho cheese for your tortilla chips. Or put turkey burgers and veggies on the grill instead of only brats and hot dogs. You will leave feeling like a winner no matter how your team did!
Stay active!
Tailgating doesn't have to always be about the food, it's also about enjoying the company you are with. Start your own game of tag football, play corn hole, throw a Frisbee™, play with the little ones or simply go for a walk. This keeps you moving and is a great way to burn some extra calories!