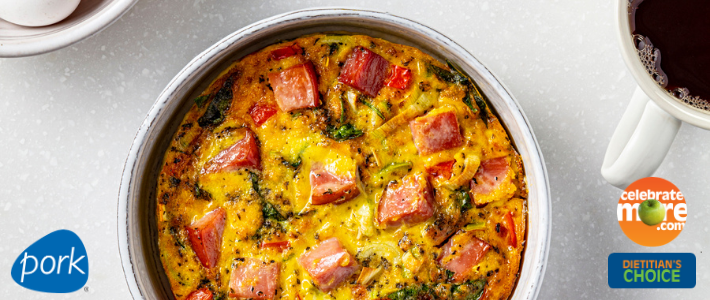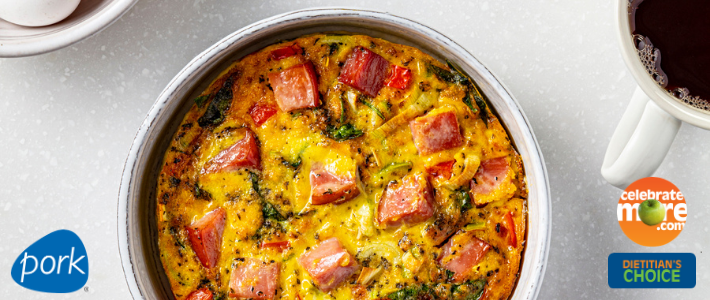 Air Fryer Ham, Veggie & Cheese Frittata
Our favorite set it and forget weekend brunch recipe is this Ham and Cheese Frittata. It's packed with protein and a cinch to make!
Ingredients
4 Large Eggs
2 Tbsp. Skim Milk
1/2 Cup Diced Ham
1/4 Cup Red Bell Peppers, diced
1/2 Cup Baby Spinach, chopped
1/3 Cup Leek, chopped (White part only)
1/2 Cup Shredded Cheddar Cheese
1/2 tsp. Kosher Salt
1/4 tsp. Garlic Powder
1/4 tsp. Dried Oregano
Freshly Ground Black Pepper
Instructions
Lightly spray a 6 or 7" round baking dish with cooking spray.
In a large bowl, beat the eggs and milk with a fork. Add the ham, peppers, spinach, leek, cheddar, salt, garlic powder, oregano and pepper to taste. Stir to combine and pour into the baking dish.
Preheat the air fryer to 300°F. Place the pan in the air fryer basket and cook for 20-23 minutes until the eggs are set in the center.
Cut the frittata in half and serve.
Notes
This recipe was created in partnership with our friends and farmers at the National Pork Board.