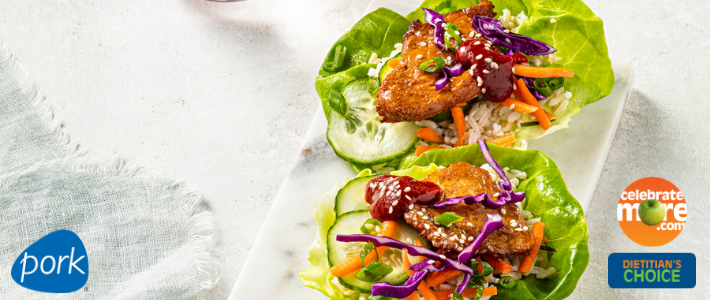 Air Fryer Korean Pork Lettuce Wraps
Prep Time
1 hour, 50 minutes
Ingredients
1 Lb. Pork Tenderloin, cut into 1/2 inch slices
1/4 Cup Thai Chili Sauce
1/4 Cup Reduced Sodium Soy Sauce
3 Scallions, chopped
2 Cups Cooked Brown Rice
12 Butter Lettuce Leaves
1 Cup English Cucumber, thinly sliced
1 Cup Shredded Carrots
1/2 Tbsp. Sesame Seeds
2 Scallions, sliced
Thai Chili Sauce (for garnish, optional)
Instructions
Place the pork slices in a large bowl. Add Thai Chili Sauce and soy sauce, toss to coat. Cover with plastic wrap and marinate for 2-24 hours in the refrigerator.
Preheat the air fryer to 400°F. Working in batches, arrange a single layer of pork in the air fryer, discarding excess marinade. Cook for about 10 minutes, flipping halfway until browned. To serve, divide brown rice among the 12 lettuce leaves. Top with pork, cucumber, carrots, sesame seeds, scallions, and Thai Chili Sauce.
Notes
This recipe was created in partnership with our friends and farmers at the National Pork Board. 
Looking for a recipe with little mess? Let your air fryer do the work with these flavor infused Korean Pork Lettuce Wraps.