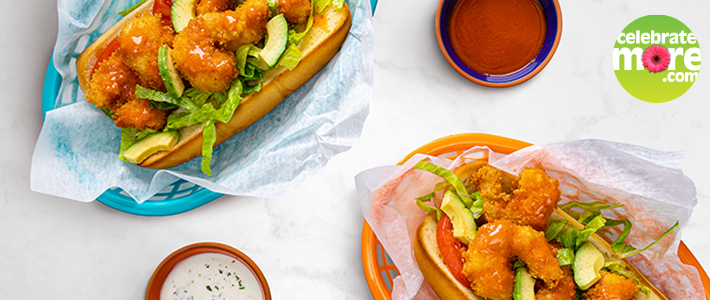 Air Fryer Shrimp Po' Boys
Ingredients
1/2 C. All-Purpose Flour
1/2 tsp. Ground Black Pepper
2 Large Eggs
1 C. Panko Breadcrumbs
1 lb. Raw 16-20 Count Tail-Off Peeled and Deveined Shrimp, thawed if necessary
Nonstick Cooking Spray
1/4 C. Cayenne Pepper Hot Sauce
2 Tbsp. Unsalted Butter, melted
4 Hoagie Rolls
1/2 Avocado, peeled, pitted and thinly sliced
1 Roma Tomato, thinly sliced crosswise, slices cut in half
1 C. Thinly Sliced Romaine Lettuce
1/3 C. Ranch Dressing
Instructions
Preheat oven to 400° F; in wide, shallow dish, whisk flour and pepper. Whisk eggs in second wide, shallow dish; place breadcrumbs in third wide, shallow dish.
Preheat 3-quart air fryer to 400° F for 5 minutes. Dip shrimp in flour mixture to coat, then dip in eggs, allowing excess to drip off, then in breadcrumbs to coat, pressing lightly so breadcrumbs adhere; place on rimmed baking pan and spray with cooking spray.
In large bowl, whisk hot sauce and butter. In 2 batches, add shrimp to air fryer; air fry 8 minutes or until golden brown and internal temperature reaches 145° F. Transfer shrimp to bowl with hot sauce mixture; toss gently.
Place rolls directly on oven rack; bake 5 minutes or until lightly browned.
Fill rolls with lettuce, tomato, shrimp and avocado; drizzle with dressing.