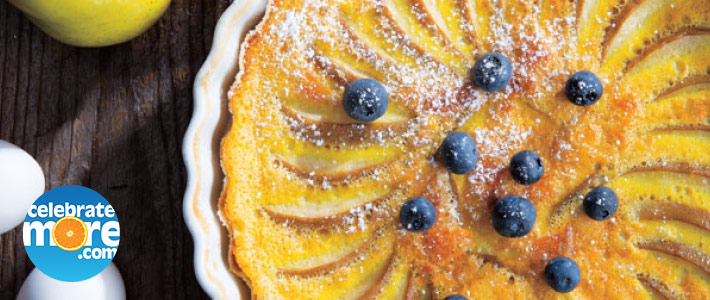 Almond-Pear Clafoutis
Prep: 20 minutes plus cooling
Bake: 45 minutes • Serves: 8
2
teaspoons unsalted butter, softened
1/2
cup plus 1-1/2 tablespoons granulated sugar
1-1/2
small ripe red Anjou or Bartlett pears
5
large eggs
2
large egg yolks
1
cup whipping cream
1/2
cup all-purpose flour, sifted if desired
2-1/2
tablespoons almond-flavored liqueur such as Amaretto
Powdered sugar for dusting (optional)
1.Preheat oven to 350°F. Grease shallow 9- to 10-inch round ceramic baking dish with butter. Sprinkle inside bottom of dish with 1-1/2 tablespoons sugar; over sink, turn dish to evenly coat bottom and sides.

2.Halve pears lengthwise; core and cut pears into 1/4-inch slices. Arrange pears in circular pattern, slightly overlapping, around inside edge of prepared dish.

3.In medium bowl, whisk together eggs, egg yolks and remaining 1/2 cup sugar 2 minutes or until pale in color and creamy. Whisk in cream, flour and liqueur until combined (some lumps may remain); carefully pour egg mixture into dish over pears without disturbing pears.

4.Bake 45 minutes or until clafoutis begins to pull away from sides of pan, top is golden brown and toothpick inserted in center comes out clean. Cool completely on wire rack before serving. Dust with powdered sugar, if desired.


Approximate nutritional values per serving:
289 Calories, 18g Fat (9g Saturated), 212mg Cholesterol,
42mg Sodium, 30g Carbohydrates, 1g Fiber, 6g Protein

Helpful Tips:
> Clafoutis can be covered and refrigerated up to 3 days.
> Try substituting some or all of the Amaretto with Grand Marnier. Serve sprinkled with blueberries or chopped hazelnuts.