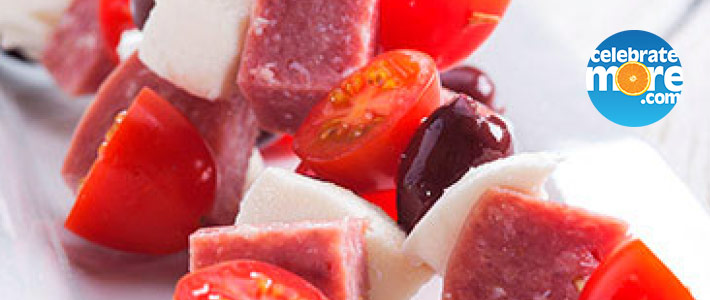 Antipasti Skewers
Prep: 25 minutes • Serves: 8
1
container (6 ounces) refrigerated basil pesto
32
pitted large kalamata olives or black olives
1
package (8 ounces) fresh mozzarella cheese, cut into 32 chunks
2
slices (1/2-inch-thick) Deli Genoa salami (about 5 ounces), each cut into 16 chunks
16
grape tomatoes (about 1/2 pint), cut crosswise in half
16
6-inch bamboo skewers
1.Let pesto stand at room temperature 15 minutes. Meanwhile, alternately thread olives, cheese, salami and tomatoes onto skewers, repeating to include 2 of each ingredient per skewer. Arrange skewers on serving platter; serve with pesto for dipping.

Approximate nutritional values per serving: 

236 Calories, 20g Fat (7g Saturated), 39mg Cholesterol,
566mg Sodium, 4g Carbohydrates, 1g Fiber, 10g Protein

Helpful Tip:
If thin slices of Genoa salami are available, roll or fold slices then skewer.