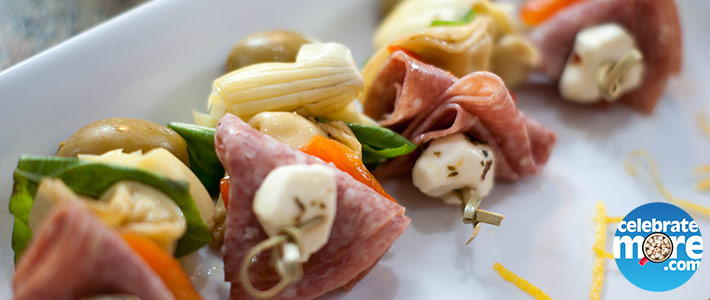 Ingredients
9 Oz. Fresh Cheese Tortellini
1/4 Cup Extra Virgin Olive Oil, Plus 1 Tbsp, divided
Salt
Ground Pepper
2 Tbsp Balsamic Vinegar
8 Oz. Belgioioso Fresh Mozzarella Pearls
½ tsp. Italian Seasoning
¼ tsp. Red Pepper Flakes
1 Jar Roasted Red Pepper
¼ Lb. Hard Salami
Fresh Basil Leaves
1 Can Artichoke Hearts
Green or Black Olives
Skewers
Instructions
In a large pot of boiling water, add 1 tablespoon olive oil. Cook tortellini according to package direction until al dente. Drain and transfer to large bowl.
Season cooked tortellini with salt and pepper. Add balsamic vinegar and half olive oil and mix to combine. Set aside.
Marinate mozzarella in a small bowl by add mozzarella balls, Italian seasoning, red pepper flakes and remaining olive oil. Stir to combine and set aside.
Assemble skewers by layering one piece of each mozzarella, salami, roasted red pepper, tortellini, basil, artichoke heart and olives.