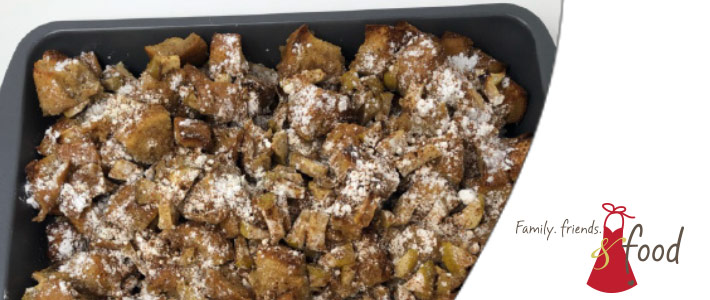 Apple Cinnamon French Toast
Ingredients
12 Oz. French Bread, day old
2 Granny Smith Apples
1 Cup Brown Sugar
2 Tbsp. Cornstarch
6 Eggs
2 Cups Milk
1 Tbsp. Vanilla
1 Tbsp.Cinnamon
¼ Cup Maple Syrup
Powdered Sugar
Whipped Cream
Instructions
Preheat the oven to 350 degrees.
Cut the bread into 1" cubes.
Dice peeled apples into small bite-size pieces.
In a medium bowl, mix the bread, apples, sugar and cornstarch together.
In a separate bowl, whisk together the eggs, milk, vanilla and cinnamon.
Pour egg mixture into the bread bowl; give the ingredients a good stir.
Pour mixture into an 8x13 greased baking pan.
Drizzle with maple syrup.
Bake for 45 minutes or until golden brown.
Sprinkle with powdered sugar, maple syrup and whip cream.