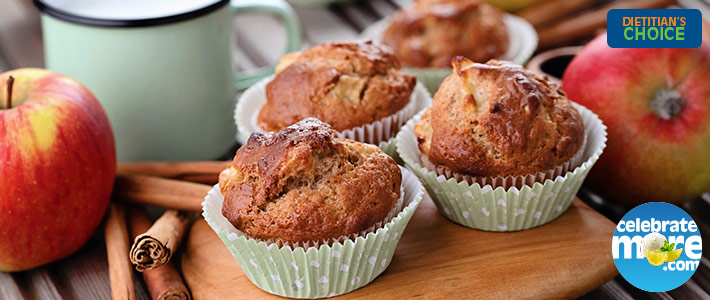 Ingredients
1 Cup Plain, Non-Fat Greek Yogurt
2 Eggs
2 Tbsp Canola Oil
2 tsp Vanilla Extract
1 Cup Whole Wheat White Flour
1 Cup Sugar
3/4 Cup Milled Oats
1/4 Cup Ground Flaxseed
2 1/4 tsp Ground Cinnamon
1 1/2 tsp Baking Powder
1/2 tsp Salt
2 Medium Apples, peeled and chopped
Instructions
Preheat oven to 350ºF.
In large bowl, combine yogurt, eggs, oil and vanilla extract.
In separate medium bowl, combine flour, sugar, oats, flaxseed, cinnamon, baking powder and salt.
Slowly add dry ingredients to wet ingredients, mis until just combined. Batter should be lumpy.
Fold in apples carefully.
Pour batter evenly into lightly sprayed muffin tin. Makes about 24 muffins.
Bake for 20-25 min. or until golden brown and toothpick comes out clean.
Notes
Recipe adapted from Mayo Clinic