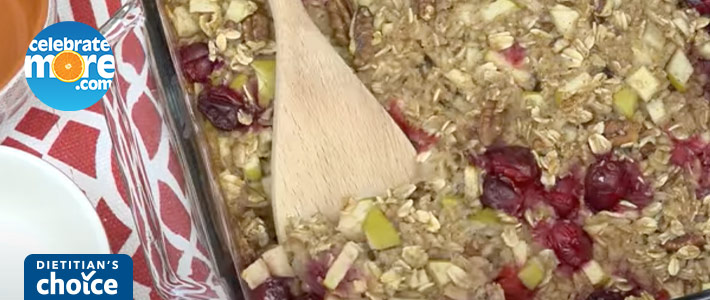 Apple Cranberry Oatmeal Bake
Start your day off with great flavor and great nutrition with this delicious Apple Cranberry Oatmeal Bake. Our dietitians are adding new recipes all the time, so check out our Dietitians Choice Recipes page for all their latest recipes!
Shop from the comfort of your home! You can shop online at any of our proud family of stores for these recipe ingredients as well as the rest of your grocery list! We offer curbside pick up at all locations and delivery in select locations as well. Don't forget to connect your MORE Rewards account when you shop online for extra savings, digital coupons, and many other rewards too!
Apple Cranberry Oatmeal Bake
Ingredients
1/2 C. Chopped Pecans
2 C. Old Fashioned Oats
1 1/2 tsp. Ground Cinnamon
1/2 tsp. Salt
1/2 tsp. Ground Nutmeg
1 3/4 C. Low Fat or Skim Milk
1/3 C. Pure Maple Syrup
1 Tbsp. Light Butter, melted
2 tsp. Pure Vanilla Extract
1 C. Fresh or Frozen Unsweetened Cranberries
1 Medium Apple, finely chopped
Instructions
Preheat the oven to 375 F. Lightly grease a 8 x 8 inch baking pan with non-stick spray.
In a medium bowl, combine the oats, pecans, cinnamon, salt, and nutmeg. Whisk to combine.
Slowly add in milk, maple syrup, melted butter, and vanilla extract. Mix until well combined.
Add in chopped apples and cranberries and fold in using a rubber spatula.
Pour oat mixture into the baking dish and spread evenly.
Bake in the oven at 375 F for 35-40 minutes or until most of the liquid has been absorbed and the top is a golden brown.
Serve with a light drizzle of maple syrup over the top and add a dollop of vanilla yogurt.
Notes
For additional flavor, try toasting the pecans on a baking sheet in the oven for 4-5 minutes at 375 degrees. This is a perfect dish to make on Sundays and reheat for an easy breakfast during the week.

Shop Ingredients