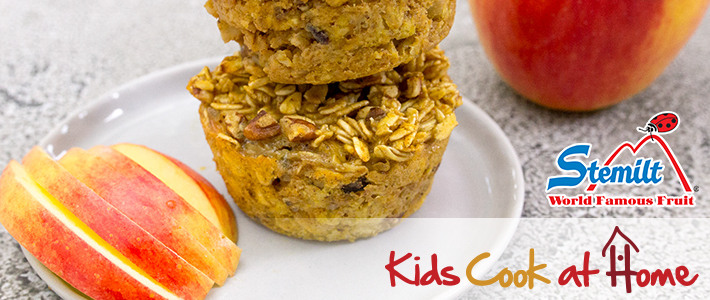 These Apple Oatmeal Cups are the perfect convenient and portable snack! This recipe goes to show that apples can be enjoyed in a variety of ways.
Supplies Needed:
- Muffin tin 
- Cooking Spray
- Large mixing bowl
- Spatula
- Whisk
- Knife 
- Can opener
- Measuring Cups
- Measuring Spoons 
Ingredients
1/2 Piñata® Apple, diced
3/4 Cup Milk
1 Large Egg
1/4 Cup Maple Syrup
1/4 Cup Pumpkin Puree
1 1/2 Cup Oats
1/2 tsp. Baking Powder
3/4 tsp. Cinnamon
1/4 tsp. Nutmeg
1/4 tsp. Vanilla
1/8 tsp. Salt
1/4 Cup Pecans, chopped
Instructions
Always start out by washing your hands- for at least 20 seconds.
First, preheat the oven to 350°F, and spray 6 cups of a muffin pan with cooking spray. You can also use cupcake liners if you'd like as well.
Next up, measure out the ingredients using the recipe above.
In a large bowl, whisk together the milk, egg, maple syrup, and pumpkin puree. (Food safety reminder: always wash your hands after cracking eggs).
Next, stir in the oats, baking powder, spices, vanilla and salt. Mix until well combined.
Lastly, mix in the chopped apples and pecans.
Divide the mixture between the 6 muffin cups.
Bake for 25 minutes at 350 degrees F. Once done, carefully remove from the oven and let cool slightly before removing them from the muffin tin.
Store them in the fridge all week and pop in the microwave for 15-20 seconds for easy reheating.
Notes
This Kids Cook at Home recipe was sponsored by Stemilt