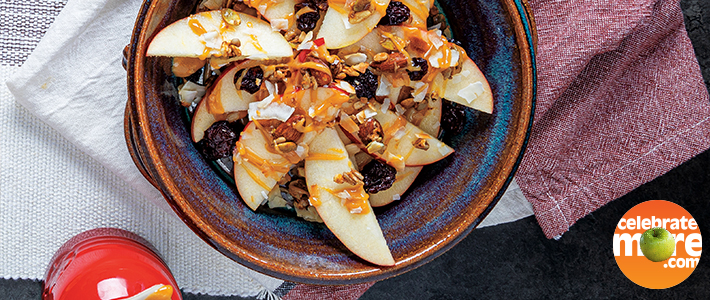 Apple-Peanut Butter Breakfast Nachos
Ingredients
¼ Cup Coconut Flakes, unsweetened
1/3 Cup Peanut Butter, creamy unsalted
2 Medium Fuji or Gala Apples, quartered, cored, and sliced 1/8-inch thick
½ Cup Granola
¼ Cup Dried Cherries, sweetened
Instructions
In small skillet, toast coconut over medium heat 3 minutes or until lightly browned and fragrant, stirring frequently; transfer to plate to cool.
In small bowl, whisk peanut butter and 1/3 cup warm water.
On serving plate, layer half the apples and drizzle with peanut butter mixture; repeat layers, then top with granola, cherries and coconut. Makes about 5 cups.
Notes
Apple cores can be composted or used for juicing after removing the seeds.
Percent Daily Values are based on a 2,000 calorie diet. Your daily values may be higher or lower depending on your calorie needs.