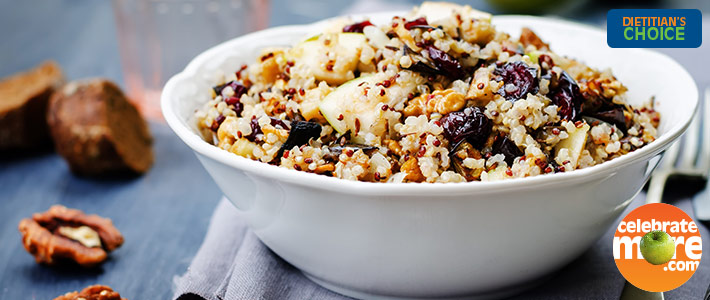 Apple Quinoa Salad with Roasted Butternut Squash
Ingredients
For the Base
3 Cups Quinoa, cooked
2 Cups Butternut Squash, cubed
1 1/2 tsp Olive Oil, divided
1/4 tsp Ground Cinnamon
1/2 Small Red Onion, thinly sliced
1/ Rave Apple, cubed
1/4 Cup Pecans
1/4 Cup Dried Cranberries, 50% reduced sugar
Fresh Thyme, for garnish
For the Dressing
1 1/2 Tbsp Olive Oil
2 Tbsp Apple Cider Vinegar
1/2 Tbsp Maple Syrup
1/4 tsp Cracked Black Pepper, ground
Instructions
As always, wash all produce under running water and let dry.
Preheat oven to 400F.
In a medium mixing bowl, combine butternut squash cubes, ground cinnamon and 1 tsp of olive oil. Spread evenly across the baking sheet. Roast in the oven for 30-45 minutes or until softened. Stir half way through to ensure even cooking.
In the same mixing bowl, add in 1/2 tsp of olive oil and sliced onions. Coat evenly. Add to baking sheet with butternut squash for the last 15 minutes of roasting.
In a small bowl, whisk together all of the ingredients for the dressing. Set aside.
While the vegetables are roasting, roughly chop the pecans and cube the apples.
When the squash and onions are done roasting, combine the cooked quinoa, apples, pecans and roasted vegetables in a large mixing bowl. Add in cranberries and drizzle dressing over the top. Stir well to coat evenly. Garnish w/ fresh thyme.
Enjoy this salad warm right away, or keep the in the refrigerator until ready to eat.