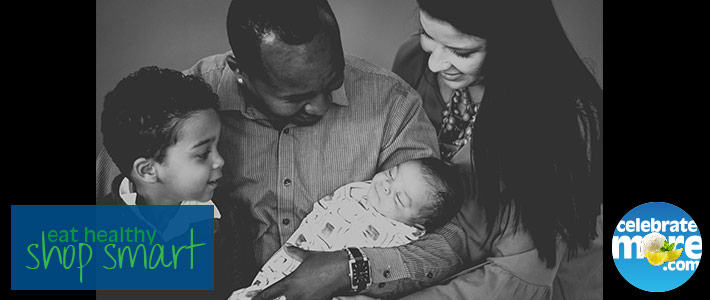 Around Our Family Table
By: Ashley Kibutha, Supermarket Registered Dietitian & Mother of Two
At our house life is crazy as is the case in many of your households. We now have 2 kiddos, a 3-year-old and a 3-month-old, plus I work a full-time job and my husband works a full time and a part time job! We love to stay active in the community and be social with lots of friends and family.
As a dietitian, I strive to serve healthy meals for dinner (at least most of the time). Of course, there will be a random night here or there where we have pizza and wings but that is not the norm – everything in moderation and proper balance! So how do I do this? First of all, every Sunday I create a menu for the week and go grocery shopping for just those items. I look in our cupboards to see what we have available to serve as components to a meal so nothing will go out dated.
For example, I see spaghetti noodles in the pantry – great! That means spaghetti is the entre for one night and that's a rather simple meal to make, so I will put that on for Monday in case it's a hard transition to work from the weekend. Then I always think about the rest of the components of the meal using MyPlate… do I have all the food groups? Fruit, veggie, whole grain, protein and diary… So, for spaghetti I will have:
whole grain pasta
lean beef for the protein
Dietitian's Choice tomato sauce (such as our Four Brother's brand)
Then I will add extra veggies like:
frozen spinach
sautéed onions (already diced from the Chop Shoppe at my Coborn's store)
minced garlic (in the jar, pre-done of course)
squeezable cilantro so I don't have to cut it (always makes such a mess!)
precut mushrooms in the package
diced tomatoes in the can (no salt added)
Then we always have a side salad using pre-chopped lettuce from the bag – how easy is that!? I always like to add:
nuts
craisins (50% less sugar)
Bolthouse Farms dressing
For dessert, I will have a fresh berry blend over a Dietitian's Choice Greek yogurt to get in the rest of the MyPlate components. There you have it! Simple and easy, I try to cut corners and save time by getting prechopped and canned items.
Another huge piece of family meals is that you need to make cooking time part of family time. I love multitasking this way because I am spending time with the kids and my husband as well as making a nutritious dinner. I always feel a sense of accomplishment plus I feel like a good mom and wife. I know I am also helping to meet my goals of returning to that pre-pregnancy weight.
You are probably thinking where are these kids that sound so peaceful and perfect?! Don't worry, it can be chaotic at our house too! A baby and a toddler – need I say more? We involve our toddler in many of the meal prep activities. He gets his step stool and watches us chop up items or prep the food. He has a cute little plastic toy knife, cutting board and veggies and likes to be a part of the meal prep by mimicking us and "chopping" up his toy veggies! Then we let him do age appropriate tasks to help us, i.e adding the vegetables in the pan, mixing, and pouring in the noodles. [See the backside of our Picky Eaters Handout for how kids can get involved in the kitchen.]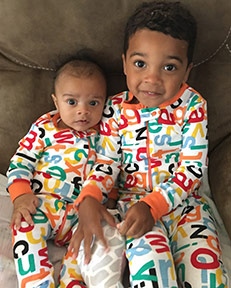 If he's having a bad day or a melt down then we put on music and let him dance and play in the kitchen with his toys, or color or do play playdoh at the table so he is still a part of this and we can have family time. My husband or I are with the baby, depending on who is cooking. I am still breastfeeding so I breastfeed in the living room while my husband cooks and observes our toddler, keeping him engaged. We have a small house so we are able to hold a conversation while he is cooking in the kitchen and I feed the baby in the living room.
Yes, it may take longer to cook if our toddler is helping but remember you are prepping a healthy meal and having family time all at the same time! Yes, your toddler is probably starving after daycare and so are you, so you can have an appetizer of veggies with hummus or a piece of fruit. When dinner is ready we all sit down and enjoy our family dinner including the baby. We set him in a bouncer near us so he is a part of it all too! If it's an exceptionally good day we even get to sneak in a glass of wine while the dinner is cooking while playing a memory game with our toddler!
So, think of cooking as time together with the whole family – rather than a mundane chore. Keep it exciting with new meal ideas and recipes! We have lots of great Dietitian's Choice recipes right here on CelebrateMORE… so make sure to check those out to help make your family meals nutritious as well as time well spent with the whole family.
Peace and wellness,
Ashley, RD, LD