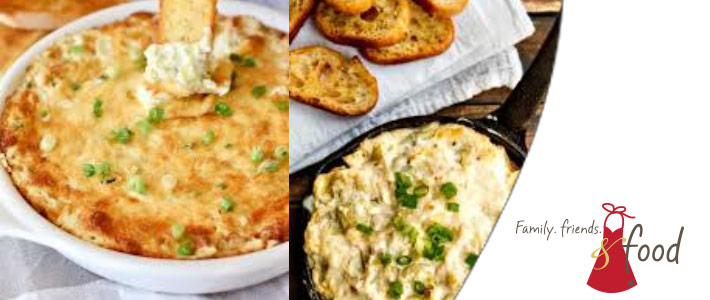 Ingredients
8 Oz. Cream Cheese, softened
1 Cup Mayonnaise
½ Cup Onion, chopped
14 Oz. Can Artichoke Hearts, drained and chopped
8 Oz. Package Imitation Crab Meat, chopped
1 Cup Monterey Jack Cheese, shredded
¾ Cup Parmesan Cheese
Crusty Bread or Assorted Snack Crackers
Instructions
Preheat oven to 375°F.
Blend cream cheese, mayonnaise, and onion in a bowl using a hand mixer.
Gently fold artichoke hearts and imitation crab, Monterey Jack cheese, and Parmesan cheese into the cream cheese mixer.
Spread into a deep-dish plate.
Bake until browned and bubbling on top 15 to 20 minutes.
Serve with sliced crusty bread or crackers.