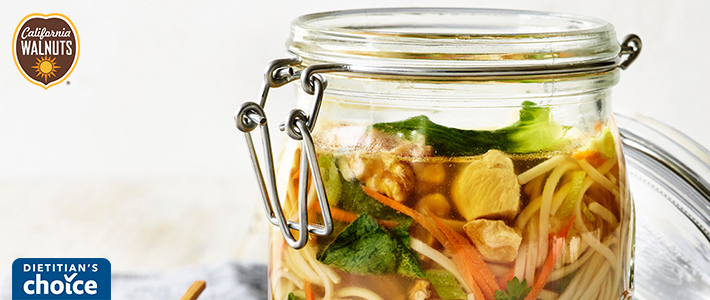 Asian Walnut, Chicken and Vegetable Noodle Jar
Ingredients
2 C. Thin Rice Noodles, lightly broken
1/2 C. Matchstick Carrots
1/2 C. Sliced Green Onions
1 Medium Head Baby Bok Choy, sliced, about 2 cups
2 Tbsp. Less Sodium Teriyaki Sauce
1/2 tsp. Ground Ginger
3 Packets of Sodium-Free Granulated Chicken Buillon
1 C. Cooked Chicken Breast, diced
1/2 C. California Walnuts, toasted and coarsely chopped
1/4 C. Fresh Cilantro Leaves, lightly packed
2-1/2 C. Boiling Water
Sriracha sauce and additional low sodium teriyaki sauce (optional)
Instructions
Place equal amounts of rice noodles, carrots, green onions, bok choy, teriyaki sauce, ginger, bouillon, chicken, walnuts and cilantro into two 1-quart size canning jars, in that order.
Pour 1-1/3 cups boiling water into each jar and screw on cover. Tip jar over several times to mix ingredients. Let stand for 5 minutes, shaking up and down occasionally to mix ingredients.
Remove lid and stir with a fork. Microwave for 30 to 60 seconds if ingredients aren't hot enough.
Serve with additional sriracha sauce for a bit of heat and extra teriyaki sauce, if desired.
Notes
Recipe and image provided with permission from CA Walnuts. Original recipe by Patty Mastracco.
Meat, vegetables, noodles and seasonings are prepped ahead and transported in large canning jars. Add hot water just before serving for a fast desk side lunch. This recipe makes 2 jars for 2 lunches during the week.