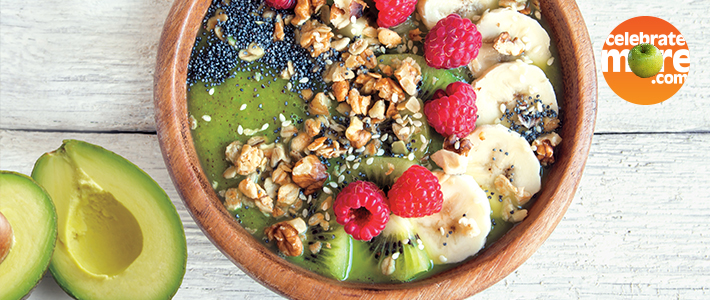 Awesome Avocado Smoothie Bowl
Ingredients
2 Large Bananas
1 Cup Coconut Milk, original (unsweetened)
2 Tbsp. Chia Seeds
1 Avocado, peeled, pitted and chopped
½ Cup Baby Spinach, loosely packed
½ Cup Unsweetened Pineapple Juice
1 Tbsp. Honey
1 Kiwi, peeled, quartered and sliced
½ Cup Fresh Raspberries
¼ Cup Granola
¼ Cup Toasted Walnuts
Poppy seeds and/or sesame seeds for garnish (optional)
Instructions
Slice and freeze 1 banana.
In glass, stir coconut milk and seeds; let stand 10 minutes.
In blender, purée avocado, spinach, pineapple juice, honey, frozen banana and coconut milk mixture. Makes about 4 cups.
Slice remaining banana. Pour smoothie mixture into 4 serving bowls; evenly top with kiwi, raspberries, granola, walnuts and sliced banana. Garnish with poppy seeds and/or sesame seeds, if desired.
Notes
Use a rubber spatula to scrape the chia seed gel that has settled to the bottom of the glass into the blender.
To toast walnuts: In large skillet, cook walnuts over low heat 8 minutes or until lightly browned and fragrant, stirring frequently; transfer to a plate to cool completely.
Percent Daily Values are based on a 2,000 calorie diet. Your daily values may be higher or lower depending on your calorie needs.