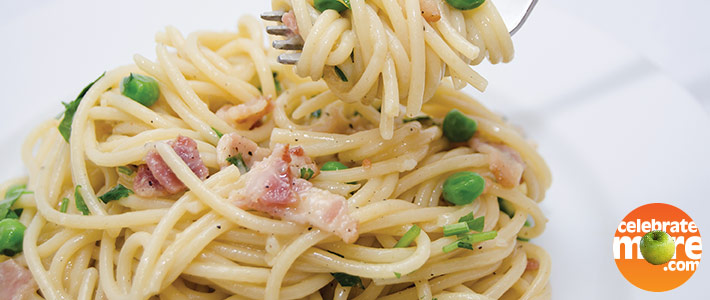 Ingredients
1 Lb. Spaghetti
10 Slices Bacon, cut into small pieces
3 Large Eggs
1/2 tsp Kosher Salt
1/4 tsp Coarse Ground Black Pepper
1 Cup Shaved Parmesan
1 Cup Frozen Peas (optional)
Instructions
Cook pasta according to package directions. Before draining, set aside 1/2 cup pasta water. Drain pasta, but do not rinse.
In a large cast iron skillet add bacon and cook until crisp.
Turn off heat, remove bacon from pan then add pasta to pan and toss in bacon fat.
Add eggs, salt, pepper and Parmesan cheese to a bowl and whisk well.
Add egg mixture slowly to skillet while tossing pasta quickly to prevent it from scrambling.
Add in 1/4 cup pasta water and peas, tossing to create a saucy consistency, adding more water if needed to achieve desired thickness.
Top with bacon and serve.