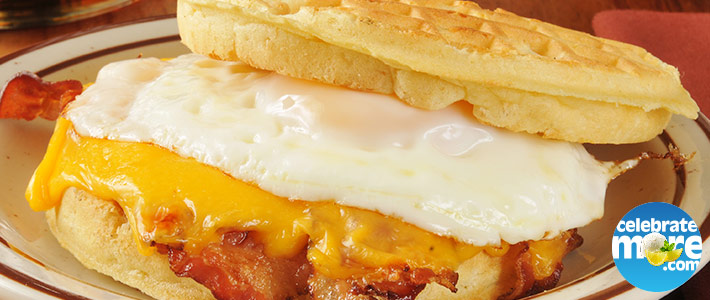 Bacon, Egg & Cheese Waffle Sandwich
Ingredients
12 Food Club Frozen Waffles
6 Large Food Club Eggs
6 Slices Bacon
6 Slices Food Club Singles American Cheese
2 Tbsp Butter
Salt & Pepper
Instructions
Preheat oven to 400ºF. Cook bacon on baking sheet for 10 per side.
Whisk eggs and pour into baking dish. Bake for 15 minutes or until firm.
Remove from oven and allow both bacon and eggs to cool. Once cooled, cut eggs into even squares.
Warm griddle to medium heat. Cut each slice of cheese and bacon in half to better fit in waffle. Assemble sandwich in following order, waffle, half slice of cheese, half slice of bacon, egg patty, bacon, cheese and top with another waffle. Butter outside edges of waffles and cook each side until golden brown and cheese is melted.