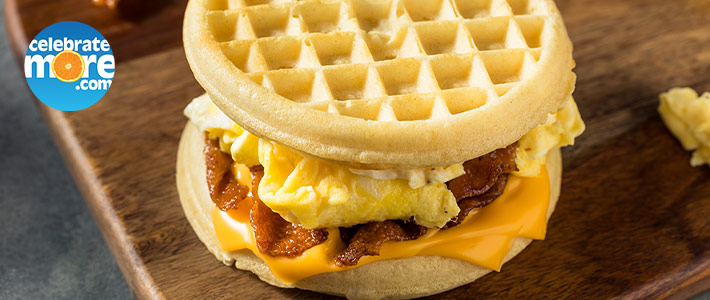 Bacon, Egg & Cheese Waffle Sandwich
Ingredients
12 Food Club Frozen Waffles
6 Large Food Club Eggs
6 Slices Bacon
6 Slices Food Club Singles American Cheese
2 Tbsp. Butter
Salt & Pepper
Instructions
Preheat oven to 400ºF. Cook bacon on baking sheet for 10 minutes per side, or until cooked to desired crispiness.
Whisk eggs and pour into baking dish. Bake for 15 minutes or until firm.
Remove from oven and allow both bacon and eggs to cool. Once cooled, cut eggs into even squares.
Warm griddle to medium heat. Cut each slice of cheese and bacon in half to better fit in waffle. Assemble sandwich in following order, waffle, half slice of cheese, half slice of bacon, egg patty, bacon, cheese and top with another waffle. Butter outside edges of waffles and cook each side until golden brown and cheese is melted.
This Bacon, Egg & Cheese Waffle Sandwich is the perfect breakfast for the whole family to enjoy on a lazy weekend morning. And sneak in a bit of veggies with breakfast with these Zucchini & Carrot Breakfast Muffins.
Shop from the comfort of your home! You can shop online at any of our proud family of stores for these recipe ingredients as well as the rest of your grocery list! We offer curbside pick up at all locations and delivery in select locations as well. Don't forget to connect your MORE Rewards account when you shop online for extra savings, digital coupons, and many other rewards too!
Shop Ingredients