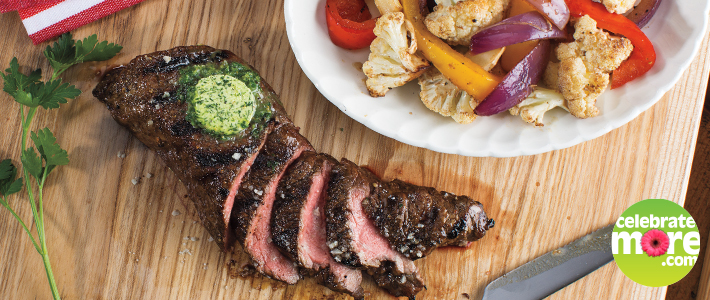 Balsamic-Marinated Steaks with Vegetable Packets
Ingredients
2/3 C. Canola Oil
1/3 C. Balsamic Vinegar
2 Tbsp. Brown Sugar, packed
1 Tbsp. Steak Seasoning
1/2 Large Red Onion, sliced
2 Medium Orange, Red and /or Yellow Bell Peppers, sliced
1/2 Medium Head of Cauliflower, cut into small florets (about 2 cups)
4 Top Sirloin Steaks (about 6 ounces each)
1/2 Tsp Salt
Instructions
In medium bowl, whisk together oil, vinegar, brown sugar and steak seasoning. Place vegetables in large zip-top plastic bag; pour half the marinade into bag. Place 2 steaks in each of 2 large zip-top plastic bags; pour half the remaining marinade into each bag. Seal bags, pressing out extra air; refrigerate at least 1 hour or up to 4 hours.
Prepare grill for direct grilling over medium-high heat. Place four 12-inch square sheets of aluminum foil on work surface. With slotted spoon, evenly divide vegetables onto center of each foil sheet; sprinkle vegetables with salt. For each packet, bring top and bottom sides of foil together over vegetables; crimp together and fold down over vegetables. Double fold both ends of packets toward vegetables.
Remove steaks from marinade; discard marinade. Place steaks and packets on hot grill rack. Cook steaks, covered, 6 to 8 minutes or until grill marks appear and internal temperature reaches 135°F, turning once halfway through cooking; cook packets 12 minutes, turning once halfway through cooking. Transfer steak to cutting board; let steak stand 10 minutes. Internal temperature will rise to 145° upon standing for medium-rare.
To serve, slice steak across the grain and serve with vegetables.
Notes
Serve vegetables in foil packets for a just-off-the-grill look.
Hot summer days are perfect for making dinner outdoors, and this Balsamic-Marinated Steaks with Vegetable Packets is sure to be a winner! Find even more great grilling recipes and more on our Grilling Headquarters page!
Shop from the comfort of your home! You can shop online at any of our proud family of stores for these recipe ingredients as well as the rest of your grocery list! We offer curbside pick up at all locations and delivery in select locations as well. Don't forget to connect your MORE Rewards account when you shop online for extra savings, digital coupons, and many other rewards too!
Shop Ingredients