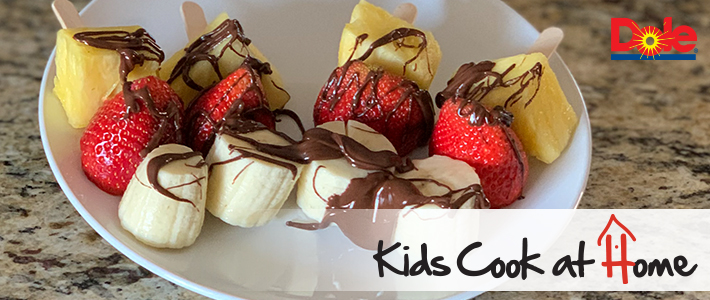 Ingredients
Fresh DOLE Pineapple, cut into chunks
Fresh Strawberries, de-stemmed
Fresh Bananas, peeled and cut into chunks
Dark Chocolate Chips, melted
Instructions
Wash your hands with warm soapy water for 20 seconds. Then wash all fresh produce under running water.
Carefully, with adult supervision, cut the fresh pineapple into chunks, cut the stems off of the strawberries, and cut the banana into chunks. Set aside.
Place dark chocolate chips in a microwave-safe bowl and heat for 30-45 seconds, stirring every 15 seconds. Carefully remove from the microwave with towel or oven mitts as the bowl may be hot.
Assemble your banana split on a stick by placing one piece of pineapple, strawberry and banana on a popsicle stick. Repeat this step until your fruit is used up.
Next, drizzle the melted dark chocolate over the fruit. Now it's ready to enjoy!