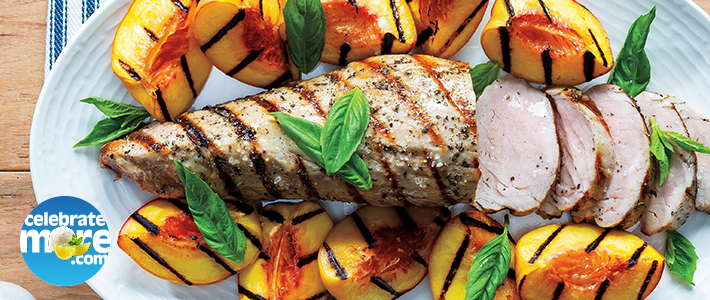 Grilled Pork Tenderloin with Grilled Peaches
Ingredients
¼ Cup Champagne or Sparkling White Wine
¼ Cup plus 1 Tbsp. Olive Oil
2 Tbsp. Fresh Basil, chopped plus additional leaves for garnish (optional)
1 Tbsp. Lemon Zest
1 tsp Kosher Salt
1 tsp Cracked Black Pepper
1 Package Pork Tenderloins, trimmed (2 tenderloins, about 1¼ pounds each)
4 Large Fresh Peaches, quartered and pitted
Instructions
In small bowl, whisk Champagne, ¼ cup oil, basil, lemon zest, salt and pepper. Place pork in large zip-top plastic bag; add Champagne and seal bag, pressing out excess air. Refrigerate at least 4 or up to 24 hours.
Prepare outdoor grill for direct grilling over medium-high heat. Remove pork from marinade and let stand at room temperature 15 minutes; discard marinade. Place pork on hot grill rack; cover and cook 25 minutes or until internal temperature reaches 140°F, turning ¼ turn every 5 minutes. Transfer pork to cutting board; loosely cover with aluminum foil and let stand 10 minutes (internal temperature will rise 5 to 10° upon standing).
Brush peaches with remaining 1 tablespoon oil. Place peaches, cut side down, on hot grill rack; cover and cook 8 minutes or until grill marks appear, turning occasionally.
Slice 1 pork tenderloin; serve with grilled peaches garnished with basil leaves, if desired.
Cover and refrigerate remaining pork tenderloin up to 3 days.
Notes
Approximate nutritional values per serving are not including 1 pork tenderloin.
Percent Daily Values are based on a 2,000 calorie diet. Your daily values may be higher or lower depending on your calorie needs.