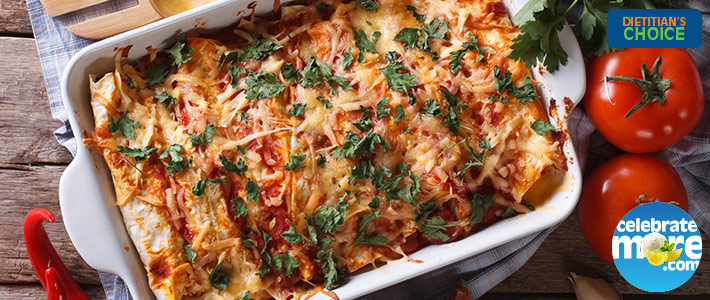 Beef Enchiladas Freezer Meal
Ingredients
2 Tbsp. Olive Oil
1 Can (14.5 Oz.) Low Sodium Chicken Broth
1 Small Can Chipotle Chili in Adobo Sauce + 1 Tbsp. Sauce from Can
2 Garlic Cloves, minced
Salt and Pepper, to taste
1 1/2 Cups Reduced Fat Shredded Cheddar Cheese (6 oz)
1/4 Cup Whole Wheat White Flour
1 1/2 Tbsp. Chili Powder
1 Small Onion, finely chopped
1 Lb. 93% Lean Ground Beef
1 Can Black Beans, drained and rinsed
8 Whole Wheat Tortillas
1/4 Cup Fresh Cilantro, chopped (optional for garnish)
Instructions
Sauce
In a medium saucepan, heat 1 1/2 Tbsp. oil over medium heat. Add flour and whisk occasionally while it cooks for 1 minute. Add broth, chili powder, chipotle and adobo sauce, and 3/4 cup of water. Bring to a boil, whisking constantly. Reduce the heat and simmer until lightly thickened, about 10 minutes.
Filling
In a 10 inch nonstick skillet, heat the remaining 1/2 Tbsp. of oil over medium-high heat. Saute onion and garlic, then add beef. Season with salt and pepper to taste. Cook for about 8 minutes, stirring frequently. Add in black beans when there is about 4 minutes left and mix in well.
Assembly
Preheat the oven to 350 degrees F. If preparing for a freezer meal, let the sauce cool and place in a double-zip bag that is freezer friendly.
Assemble the enchiladas by filling each tortilla with about 1/4 Cup of the beef mixture and adding two Tbsp. of cheese. Roll tightly and place in foil pan. Continue this process until all enchiladas are assembled. Once cooled, place foil cover over the pan and place in the freezer along with sauce.
Remove the sauce from the freezer the night before and let thaw. Just before the meal time, remove the enchiladas from the freezer and remove the foil cover. Pour the sauce over the top and sprinkle with extra cheese. Cover the dish with foil and bake in the over for 30 minutes at 450 degrees. Then, remove the cover and bake for an additional 15 minutes until the top is bubbly and lightly browned. Let cool for 5-10 minutes before serving.
Notes
Dietitian's Tip: Serve with low-fat sour cream or try plain non-fat Greek yogurt as a great substitution. Add on shredded lettuce, a low-sodium salsa, and garnish with freshly chopped cilantro (optional). Recipe adapted from Martha Stewart

Shop Ingredients