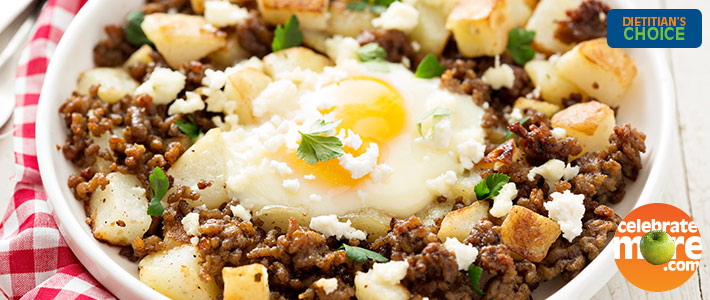 Ingredients
3 Tbsp Olive Oil, divided
1 Onion, diced
1 Lb. 93% Lean Ground Beef
2 Cloves Garlic, minced
2 tsp Rosemary, divided
3 tsp Thyme, divided
1/2 tsp Crushed Red Pepper
1 tsp Ground Pepper, divided
2 Lbs. Russet Potatoes, peeled and diced
1/2 tsp Salt
1/2 Pint Cherry Tomatoes
1 1/2 Cups Spinach
Instructions
In large skillet over medium heat, add 1 Tbsp olive oil and onions. Cook until clear, about 5 minutes.
Add ground beef, garlic, 1 tsp rosemary, 1 1/2 tsp thyme, crushed red pepper and 1/2 tsp ground pepper to onions and cook until browned, stirring occasionally.
Remove from heat and set aside in a medium bowl.
Add 1 Tbsp olive oil to same skillet and add potatoes, 1 tsp rosemary, 1 1/2 tsp thyme, 1/2 tsp ground pepper and salt. Stir well to coat potatoes. Cook for 7-8 minutes, stirring occasionally.
Add cherry tomatoes and cook 3-4 minutes.
Add spinach and cook until wilted, about 1-2 minutes.
Add beef and onion mixture back to skillet and mix well into potatoes.
Notes
Optional: Add scrambled or fried egg on top of hash.