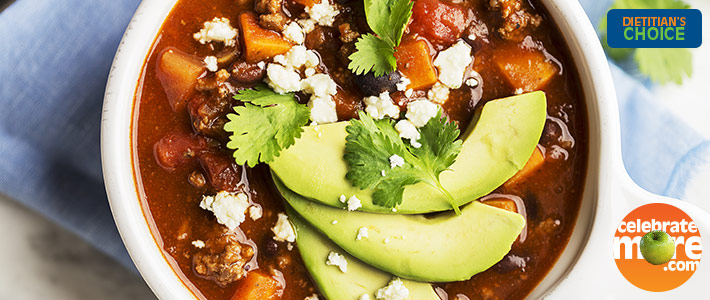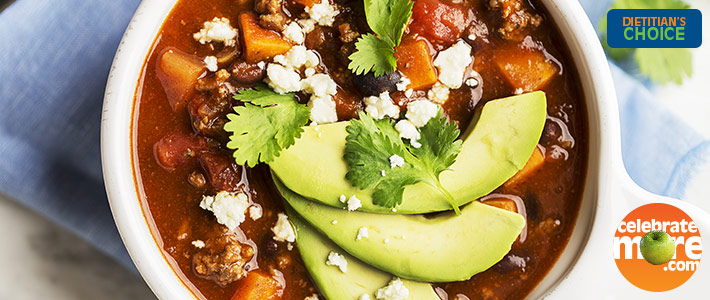 Beefy Sweet Potato and Black Bean Chili
Ingredients
1 lb. Lean Ground Beef
1/2 lb. Large Sweet Potato, peeled and cut into 1/2 inch dice
1 Onion, diced
1 tsp Chipotle Powder
1 Tbsp. Paprika
1 tsp Cumin
4 Cloves Garlic, minced
2 (14.5 oz) Cans Black Beans, with liquid
1 (14.5 oz) Can Diced Tomatoes, with liquid
2 (14 oz) Cans of Tomato Sauce
1 Cup Water
1 Medium Avocado, sliced
1/2 Cup Fresh Cilantro Leaves, chopped
2 Oz. queso fresco, crumbled
2 Tbsp. Olive Oil
Salt and Pepper, to taste
Instructions
Place a large stock pot over medium-high heat. Add the vegetable oil followed by the lean ground beef, onion, salt and pepper. Cook until the ground beef is browned, about 5 minutes.
Add the chipotle powder, paprika, cumin and garlic, and cook for 3 minutes more.
Add the black beans with juices, diced sweet potato, tomatoes with juices, tomato sauce and water. Season with salt and pepper, again, to taste. Bring to a boil, then reduce to a simmer. Cook until the sweet potatoes become tender, about 20 minutes.
Ladle into bowls and top with an even amount of avocado slices, cilantro leaves and queso fresco.