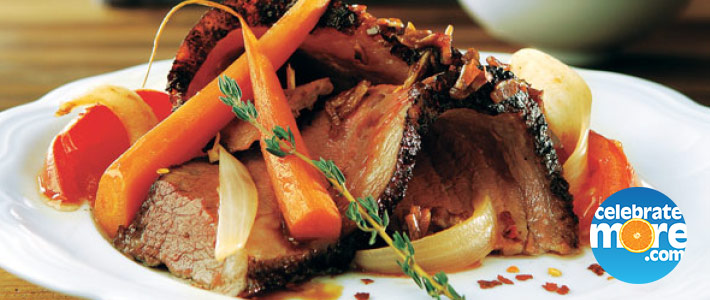 Beer-Braised Beef Brisket
Prep: 15 minutes
Cook/Roast: 4 hours 40 minutes
Serves: 10
1
fresh flat-cut beef brisket (about 6 to 7 pounds)
1
package (2 ounces) onion soup mix
¼
cup olive oil
3
large carrots, each cut into 3-inch pieces
2
bay leaves
2
large tomatoes, each cut into 1-inch wedges
1-1/2
large yellow onions, cut into 1-inch wedges
1/2
teaspoon crushed red pepper flakes
2
bottles (12 ounces each) beer
2
tablespoons margarine or salted butter
1.Preheat oven to 300°F. Cut brisket in half crosswise if necessary to fit into large roasting pan or Dutch oven. Rub brisket with 2 pouches onion soup mix. Heat pan over medium heat until hot. Add oil and heat until hot but not smoking. Add brisket and sear all sides until browned; place brisket, fat side down, in pan.

2.Add carrots, bay leaves, tomatoes, onions and crushed red pepper to pan. Pour beer over brisket. Cover pan tightly with lid or foil. Roast brisket 4 to 5 hours until fork-tender.

3.Remove and discard bay leaves. Remove brisket and vegetables from pan; keep warm. Skim and discard fat from pan drippings. Strain pan drippings into a medium saucepan. Simmer over medium heat 25 minutes. Remove saucepan from heat; add butter and stir until melted. Place brisket on cutting board and slice across the grain. Serve with vegetables and sauce.


Approximate nutritional values per serving: 

668 Calories, 36g Fat (12g Saturated), 210mg Cholesterol,
892mg Sodium, 11g Carbohydrates, 2g Fiber, 66g Protein