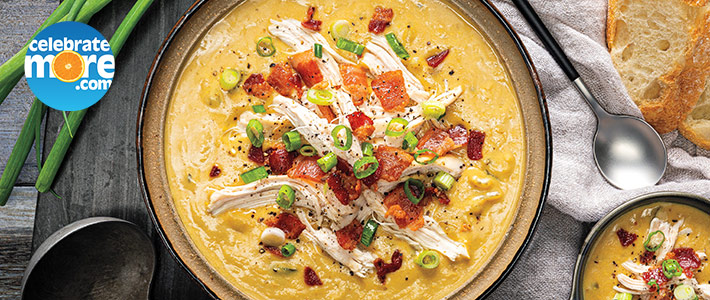 Beer-Cheese Soup with Rotisserie Chicken
Ingredients
6 Slices Thick-Cut Bacon, Chopped
2 Celery Ribs, Chopped
1 Medium Poblano Pepper, Chopped
1 Small White Onion, Chopped
1/4 Cup All-Purpose Flour
1 Bottle (11.2 oz.) Stout Beer
32 oz. Chicken Stock
1 C. Heavy Cream
1/2 tsp. Dried Oregano
1/2 tsp. Garlic Powder
4 C. Shredded Mexican Blend Cheese
4 Green Onions, Thinly Sliced
2 C. Shredded Skinless Rotisserie Chicken Breast Meat, Warmed
Instructions
In large saucepot, cook bacon over medium-high heat 5 minutes or until crisp, stirring occasionally. Transfer to paper towel-lined plate.
In same saucepot with drippings, cook celery, pepper and white onion 5 minutes or until tender-crisp, stirring occasionally. Add flour; cook 1 minute, whisking occasionally. Whisk in beer; cook 1 minute or until slightly thickened, whisking frequently. Add stock, cream, oregano and garlic powder; heat to a simmer, whisking frequently. Reduce heat to low; cook 15 minutes or until vegetables are very soft, stirring occasionally. Whisk in cheese until melted.
Serve soup topped with green onions, chicken and bacon.