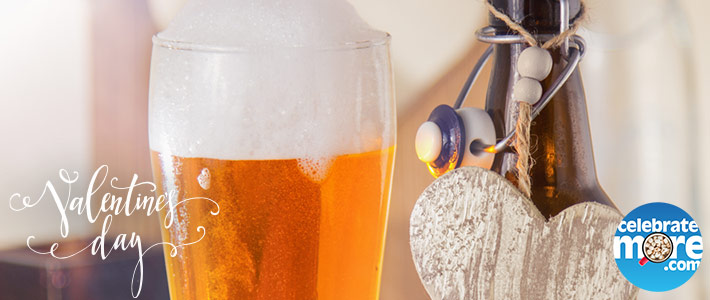 Can you believe Valentine's Day is next week? If you ask me… beer is the perfect gift for this holiday!
I have a lot of people ask me for suggestions of what brands of particular beers to buy at Coborn's Liquor. And if you are buying for a gift you may not know what brand the gift-receiver loves but you may know what type they enjoy. So I have come up with a list of popular beer types and my suggestions for brands and flavors you should try.
Pale Ale
If your Valentine enjoys a Pale Ale, you should pick up Sierra Nevada's new Sidecar Orange Pale Ale. It's a Pale Ale with a twist. This hoppy Pale Ale is brewed with Cascade, Equinox and Mandarina hops with a hint of orange peel that adds a zesty pop of bright orange flavor.
Amber Ale
If your honey likes an Amber Ale, you should treat them to Odell's 90 Schilling. A medium bodied amber ale with a distinct copper color and a deeply pleasant aroma.
Fruit Ale
If your sweet likes a sweet Fruit Ale, I would suggest picking up Funkwerks Raspberry Provincial. This delightfully tart fruit beer is refreshing, with a citrus raspberry aroma which transitions to a subtlety sweet and tart finish.
IPA
If your babe loves and IPA, pick them up a Lift Bridge Hop Dish IPA. An aggressively hopped IPA with aromas of citrus, fruit & pine with subtle malt sweetness and notes of caramel.
Stout
If you have a Stout lover, grab some Left Hand Milk Stout Nitro and top with a bow. Dark and delicious, this great milk stout will change your perception about what a stout can be. The aroma is of brown sugar and vanilla cream, with hints of roasted coffee. Roasty, mocha flavors rise up, with slight hop and roast bitterness in the finish.
Seltzer Water
If your love enjoys a seltzer water, get a hold of some White Claw Black Cherry Hard Seltzer. White Claw Hard Seltzer brings the simplicity that is seltzer water, along with a spike of alcohol and a hint of natural fruit flavor, to create a refreshing low calorie seltzer drink with no artificial ingredients and is Gluten Free.
There you go! Some great suggestions to satisfy your other-half this Valentine's Day! The best part, all you have to do is stick a bow on it and you're done! What a nice gift to come home to after a long Tuesday at work.
Have a great Valentine's Day!
Wade
Coborn's, Inc. Beer Category Manager