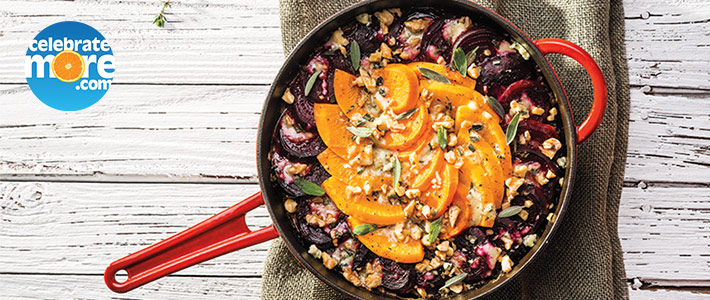 Beet, Rutabaga & Sweet Potato Gratin
Cook Time
1 hour, 50 minutes
Total Time
2 hours, 15 minutes
Ingredients
Nonstick Cooking Spray
3 Tbsp. Olive Oil
1 Large Red Onion, halved and sliced 1/4-inch thick
1 tsp. Kosher Salt
1/2 tsp. Fresh Ground Black Pepper
1/2 tsp. Granulated Sugar
1/2 C. Vegetable Broth or Stock
1 Tbsp. Plus 1 tsp. Chopped Fresh Sage Leaves, plus additional leaves for garnish
1 C. Crumbled Blue Cheese
4 Medium Beets, peeled and cut into 1/4-inch-thick slices
1/2 Small Rutabaga, peeled and quartered, cut into 1/8-inch-thick slices
1 Small Sweet Potato, peeled and cut into 1/4-inch-thick slices
1/4 C. Chopped Walnuts
Instructions
Preheat oven to 400°F. Spray 2-quart, oven-safe skillet or round baking dish with nonstick cooking spray.
In large skillet, heat 1-1/2 tablespoons oil over medium heat. Add onion, 1/2 teaspoon salt, 1/4 teaspoon pepper and sugar; cook 15 minutes or until onion is soft, stirring frequently. (Reduce heat to low if onion begins to brown.) Stir in broth and cook 5 minutes longer; stir in 1 tablespoon sage.
Evenly spread onion mixture in bottom of prepared skillet; sprinkle with 1/2 cup cheese. Over onion mixture, arrange beets in circular pattern, slightly overlapping, around inside edge of skillet; arrange rutabaga, slightly overlapping, inside circle of beets, then arrange sweet potato, slightly overlapping, down center of rutabaga. Evenly sprinkle with remaining 1/2 teaspoon salt and 1/4 teaspoon pepper; evenly drizzle with remaining 1-1/2 tablespoons oil.
Tightly cover skillet with aluminum foil. Bake gratin 1 hour 15 minutes. Remove foil; sprinkle with remaining 1/2 cup cheese, walnuts and remaining 1 teaspoon sage. Bake 15 minutes longer or until vegetables are tender and top is lightly browned. Let stand 10 minutes before serving; garnish with sage leaves, if desired.
Beet, Rutabaga & Sweet Potato Gratin is a colorful and tasty dish that packs a punch of flavor and adds variety to your veggies! Love sweet potatoes? Check out this Blueberry and Pecan Stuffed Sweet Potato recipe.
Shop from the comfort of your home! You can shop online at any of our proud family of stores for these recipe ingredients as well as the rest of your grocery list! We offer curbside pick up at all locations and delivery in select locations as well. Don't forget to connect your MORE Rewards account when you shop online for extra savings, digital coupons, and many other rewards too!
Shop Ingredients