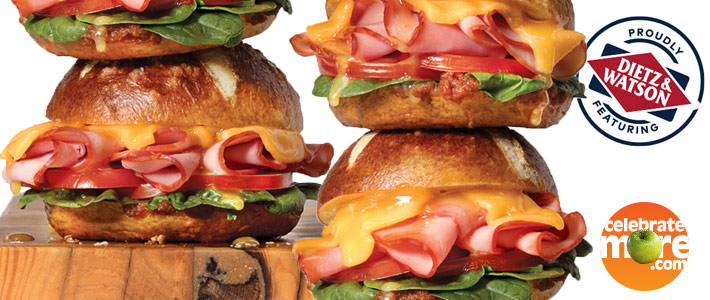 Ingredients
2 oz. Dietz & Watson Black Forest Ham
2 oz. Dietz & Watson Smoked Gouda Cheese
1 tsp. Apple Butter Spread
Small Handful Spinach
2 Tomato Slices
1 tsp. Dietz & Watson Zesty Honey Mustard
2 Slices Whole Wheat Bread (or try Pretzel Buns)
Instructions
Preheat the oven to 350 degrees.
Take 2 slices of bread and lightly coat both slices with apple butter
Stack the sandwich from bottom up in this order: Spinach, tomato slices, Dietz & Watson Black Forest Ham, smoked gouda, and top with second slice of bread with zesty honey mustard facing down.
Bake in the oven at 350 for at least 7 minutes. Let cool for a few minutes & enjoy!
Notes
Recipe provided by Dietz & Watson