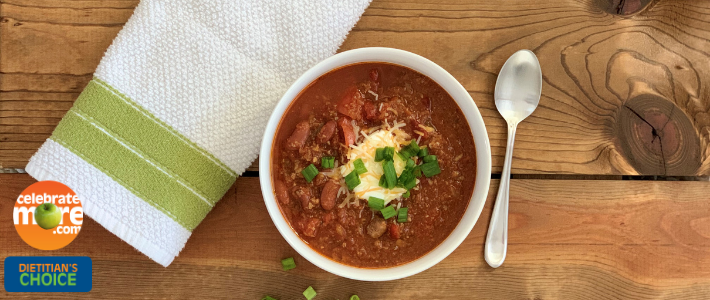 Blenditarian Instant Pot Chili
Ingredients
1 Tbsp. Olive Oil
8 Ounces Crimini Mushrooms
1 Onion, chopped
2 Cloves Garlic, minced
1/2 Pound Lean Ground Beef or Turkey
1 Green Pepper, finely chopped
1 Red Pepper, finely chopped
1 Can Kidney Beans, drained and rinsed
1 Can Diced Tomatoes, no salt added
1 Can Tomato Paste
2 Tbsp. Chili Powder
1/2 tsp Dried Thyme Leaves
1/2 tsp Dried Oregano Leaves
1/2 tsp Ground Mustard
1/4 tsp Dried Minced Garlic
1/4 tsp Dried Minced Onion
1 tsp Ground Cumin
1 tsp Salt
2 Cups of Low Sodium Broth
Garnish
Sour Cream or Plain, Non-Fat Greek Yogurt
Cheddar Cheese
Green Onions, chopped
Instructions
Place the mushrooms, onion and garlic in a good processor. Pulse until finely chopped.
On your Instant Pot, select the sauté setting, and add in 1 Tbsp. of olive oil and the chopped mushrooms, onion, and garlic. Sauté for about 2-3 minutes, until garlic is fragrant.
Once garlic is fragrant, add in ground meat and chopped bell peppers. Continue to stir and separate the meat until it's fully cooked, about 5-7 minutes. Once cooked, turn off the Instant Pot (cancel the sauté setting).
Once ground meet is cooked, add the remaining ingredients into the Instant Pot. Stir to incorporate all of the ingredients, then put the lid on.
Set the Instant Pot to cook the rest of the chili by selecting MANUAL, at HIGH pressure, for 20 minutes. Be sure the steam release is closed/sealed. Once 20 minutes is complete, hit CANCEL and let the Instant Pot naturally release steam for 10 minutes.
Serve immediately with sour cream, cheddar cheese, and chopped green onions.
Notes
Recipe adapted with permission from The Mushroom Council Visit their site to find the slow cooker instructions for this delicious chili!