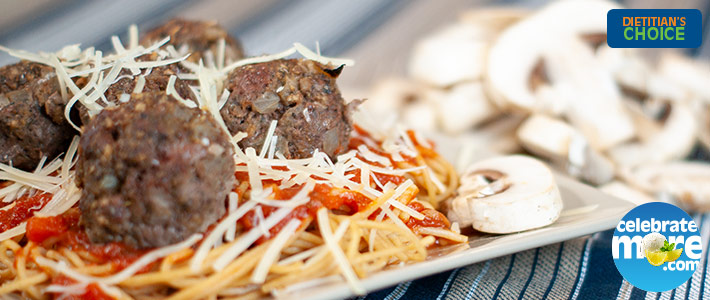 Blenditarian Spaghetti and Meatballs
Ingredients
8 Oz. Mushrooms
16 Oz. Ground Beef
1½ tsp Italian Seasoning
6 Oz. Diced Onion
2 tsp Minced Garlic
½ Cup Breadcrumbs
1 Egg
Whole Wheat Spaghetti
24 Oz. Pasta Sauce
Instructions
Preheat oven to 400ºF.
Grease baking sheet and set aside.
Using food processor, add mushrooms and pulse until finely chopped. If you do not have a food processor, you can use a knife to finely chop mushrooms.
In medium skillet over medium heat, cook mushrooms until softened and darkened in color (about 5 minutes). Set aside; let cool.
Once mushrooms have cooled, combine mushrooms, beef, Italian seasoning, onion, garlic, breadcrumbs and egg in a large bowl.
Using your hands, shape mixture into 1 inch meatballs and place on baking sheet.
Bake 25 minutes or until meatballs reach an internal temperature of 160ºF.
While meatballs are baking, prepare whole wheat pasta per package directions.
Serve pasta with meatballs and pasta sauce.
Notes
To make this a complete meal, serve with a side of steamed vegetables, fresh fruit, and a glass of low fat milk. This is the perfect way to sneak in more vegetables in one of your family's favorite dishes.
Originally published May 9, 2019
Revised Dec. 31, 2020