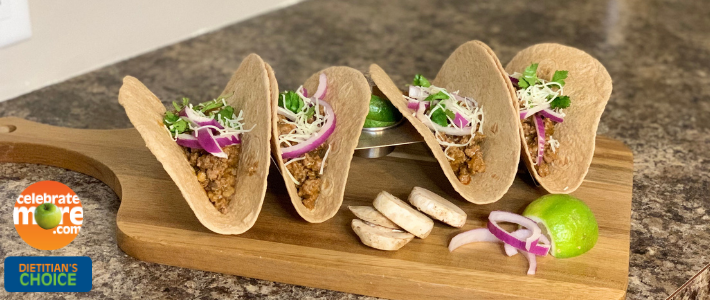 Ingredients
1/2 Tbsp. Olive Oil
1/2 Lb. Mushrooms, finely chopped
1/2 Lb. Lean Ground Beef or Turkey
Low Sodium Taco Seasoning
Whole Wheat Tortillas or Hard Shell Corn Tortilla Shells
Optional Toppings
Pickled Onions
Monterey Jack Cheese, shredded
Shredded Lettuce
Fresh Cilantro, Chopped
Avocado, diced
Salsa
Light Sour Cream
Green Onions
Instructions
Wash all produce under running water. Be sure mushrooms have been thoroughly washed and dried.
Using a food processor or a knife, finely chop 1/2 pound of mushrooms.
Heat oil in a large skillet over medium heat. Add the chopped mushrooms and sauté for 2-3 minutes. Add in the ground beef and cook thoroughly, about 7-10 minutes.
Add in low sodium taco seasoning (and water if needed) and let simmer for about 2-3 minutes.
Assemble your tacos with your favorite toppings. Enjoy!