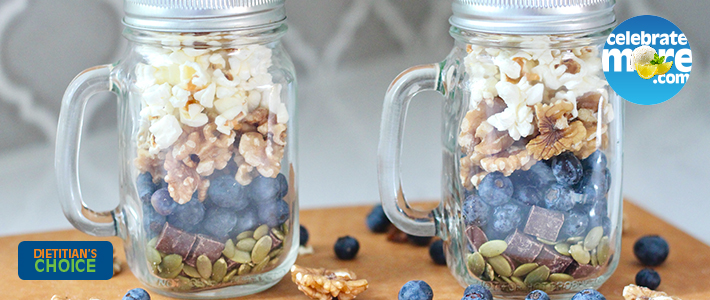 Blueberry and Walnut Snack Mix
Ingredients
1/2 Cup Fresh Blueberries
1 Oz. California Walnut Halves
1 Cup Air-Popped Popcorn
1 Tbsp. Shelled Pumpkin Seeds
1 Tbsp. Dark Chocolate Chips
Instructions
Combine all of the ingredients together in a bowl and gently stir to combine.
Enjoy!
Notes
If you're planning to store this snack mix, we recommend:
A bento box:  Mix together walnuts, popcorn, pumpkin seeds and dark chocolate chips and place in one section of the bento box. Place blueberries in a separate section. When ready to eat combine the mixture and blueberries together.
A mason jar:  Layer the pumpkin seeds and dark chocolate chips on bottom, followed by blueberries, walnuts and popcorn. Add a small piece of parchment paper to separate the popcorn from the rest of the Turn on screen reader support.
Recipe Modifications:  Swap 1/2 cup fresh blueberries for 1/4 dried blueberries if storing longer term. To kick this recipe up a notch, try roasting your walnuts ahead of time.
Recipe shared with permission from California Walnuts