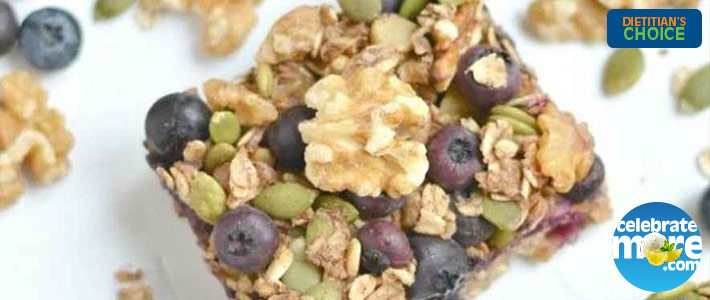 Blueberry Protein Walnut Breakfast Bars
Ingredients
Base
1 Cup California Walnuts
2 Cups Gluten Free Oats
1/4 Cup Plant-Based Vanilla Protein Powder
1/2 Cup Unsweetened Applesauce
1 tsp Vanilla Extract
3 Tbsp. Maple Syrup
1/4 tsp Salt
1 tsp Cinnamon
Crumble
1/4 Cup Gluten Free Oats
1/4 Cup Pepitas
1 Cup Fresh Blueberries
1/4 Cup Coconut Milk
Instructions
For the Base
Preheat the oven to 350 degrees F.
Prepare a 9x9 square baking dish with two pieces of parchment paper. Place parchment paper in opposite directions for easy removal.
Add all the ingredients for the base to a food processor and process on high until fully broken down and the mixture is doughy.
Transfer the mixture to the prepared baking dish and spread into an even layer with a spatula.
Bake for 8 minutes.
For the Crumble
Add all of the ingredients for the crumble mixture into bowl and mix well.
Remove the baking dish from the oven, top with an even layer of the crumble mixture and press it gently into the crust.
Bake another 12 minutes in the oven.
Remove from the oven and cool in the pan for 30 minutes prior to lifting the bars out of the pan with the parchment paper. Slice into 12 bars.
Store the bars in an air-tight container in the refrigerator for up to 1 week.
Notes
Dietitian's Tip: Make these at the beginning of the week and have on hand for an easy-grab and go breakfast!
Recipe provided by California Walnuts