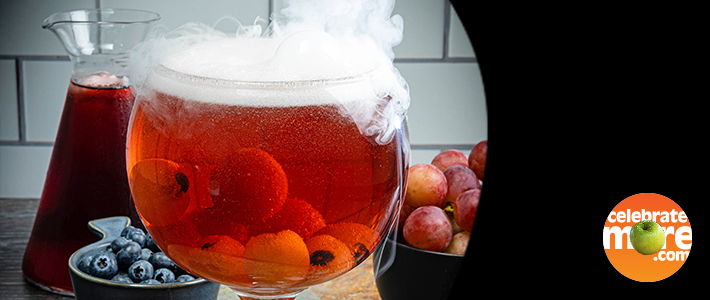 Ingredients
12 Green Grapes
12 Blueberries
4 Cups 100% Cranberry Juice
4 Cups Ginger Ale
3 Cups Sparkling Water
Instructions
In small saucepot, heat 4 cups water to a boil over high heat. Add grapes and cook 1 minute; drain. With slotted spoon, transfer grapes to bowl filled with ice water and cool completely; peel grapes. With small spoon or paring knife, make a hole at 1 end of each grape; stuff each grape with 1 blueberry to make "eyeballs."
In large punch bowl, stir cranberry juice, ginger ale and sparkling water; add "eyeballs." Makes about 12 cups.
Notes
To impress guests at your Halloween party, create a spooky, smoky effect by adding about 1/4 cup dry ice pellets to the punch just before serving and let stand 5 minutes or until smoking stops.
Percent Daily Values are based on a 2,000 calorie diet. Your daily values may be higher or lower depending on your calorie needs.