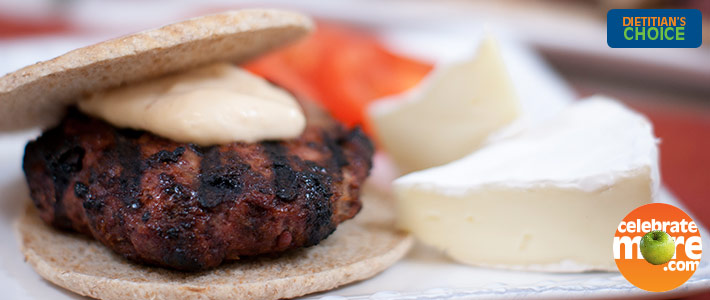 Ingredients
Burger
1 Lb. 93% Lean Ground Beef
1 Egg, beaten
1/4 Cup Whole Wheat Bread Crumbs
1/3 Cup Fresh Blueberries
1/8 Cup Pure Maple Syrup
1 tsp Garlic Powder
1 Pinch Pepper, to taste
Adobo Sauce
1/3 Cup Olive Oil Mayonnaise
1 tsp Adobo Sauce From Chipotle Peppers
Instructions
Mix Burger ingredients together and make into 4 patties.
Grill burgers 3-4 minutes on each side, until they reach internal temperature of 160ºF.
While burgers are grilling, mix sauce ingredients together and spread on top half of burger bun.
Add cooked burgers to buns and enjoy!
Notes
Try adding slices of Brie cheese to add even more flavor and serve on 100% Whole Grain sandwich thins as a lighter and more nutritious option!