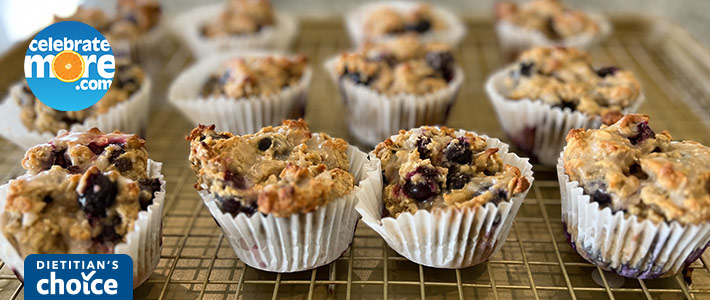 Blueberry Muffins with Lemon Drizzle
Ingredients
For the muffins:
1 C. Oats
1/2 C. Brown Sugar
1 C. Blueberry Greek Yogurt
1/3 C. Extra Virgin Olive Oil
1 Egg, beaten
1 C. All-Purpose Flour
1/2 tsp. Salt
1 tsp. Baking Powder
½ tsp. Baking Soda
1C. Blueberries, washed
For the Drizzle:
3/4 C. Powdered Sugar
2 Tbsp. Lemon Juice
1/8 tsp. Vanilla
Instructions
Preheat the oven to 400 degrees. Prepare a muffin tin with paper liners.
Wash your hands with soap and water.
Add the oats, brown sugar, Greek yogurt, oil, and egg to a bowl and mix thoroughly. Set aside while you complete step 4.
In a large bowl, mix the flour, salt, baking powder, baking soda, and blueberries until evenly combined.
Add the wet ingredients from step 3 to the large bowl and stir until just combined, using a spatula or spoon.
Spoon the muffin batter into each of the paper liners, filling them about ¾ of the way.
Bake the muffins for 15-20 minutes. They will be done cooking when the tops are browned and a toothpick comes out cleanly. Allow to cool slightly.
While the muffins bake, combine the powdered sugar, lemon juice, and vanilla to create the drizzle.
Drizzle the warm muffins with the mixture from step 8. And enjoy!
Spend some time with the kids in the kitchen making a fun, healthy breakfast with these Blueberry Muffins with Lemon Drizzle. Find more tasty kids recipes and get your kids more involved in the kitchen by checking out our Kids Cook At Home classes! These FREE classes are provided by our dietitian team to help you and your kids have fun while making kid friendly and nutritious recipes.
Shop from the comfort of your home! You can shop online at any of our proud family of stores for these recipe ingredients as well as the rest of your grocery list! We offer curbside pick up at all locations and delivery in select locations as well. Don't forget to connect your MORE Rewards account when you shop online for extra savings, digital coupons, and many other rewards too!
Shop Ingredients