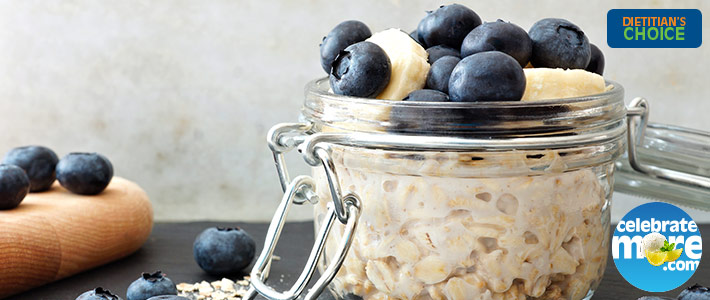 Ingredients
1/2 Cup Old Fashioned Oats
1/2 Cup Milk, plus 1 Tbsp. for the next morning
1/4 tsp Cinnamon
1 tsp Ground Flaxseed
1 tsp Maple Syrup
1/2 Cup Fresh Blueberries
Instructions
In a small mixing bowl, combine the oats, milk, cinnamon, ground flaxseed, maple syrup and fresh blueberries. Stir together gently.
Pour into a mason jar, plastic container, or any other storage container with a lid. Place in the refrigerator overnight.
In the morning, add 1 Tbsp. of milk and stir well.
Enjoy as a cold breakfast on-the-go or enjoy at home.
Notes
Dietitian's Tips: Do you love bananas and peanut butter? Using the same recipe from above, replace the blueberries with 1/2 of a sliced banana and 1 Tbsp. peanut butter to create a delicious breakfast!
Recipe provided by Reach-Up Head Start Early Head Start