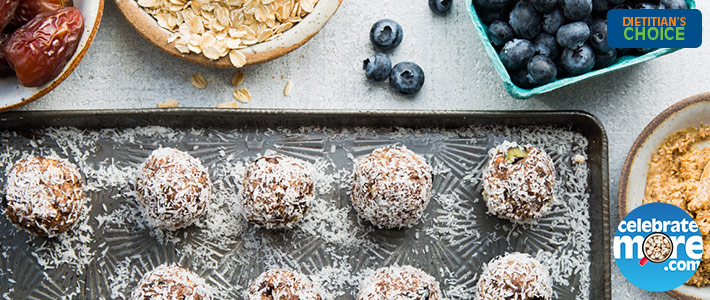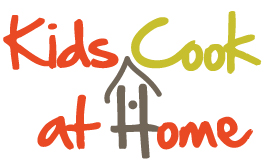 Recipe Difficulty: Medium
Oven: No
Stovetop: No
Knife: No:
Other: Food Processor
Blueberry Power Superfood Bites
These Blueberry Power Superfood bites are perfect to add to a mid-day snack or to enjoy as a dessert. 
Supplies Needed
- Spatula
- Measuring Cups
- Measuring Spoons
- Food Processor
- Medium Mixing Bowl
- Plate
- Spoon
Ingredients
1 cup rolled oats
10 dates, pitted
1/2 cup almond butter
1/2 cup dark chocolate chips
1/2 cup + 1/4 cup fresh blueberries
1/2 cup unsweetened shredded coconut
Instructions
Wash your hands! (for at least 20 seconds)
Wash your fresh blueberries under running water. Let sit on a towel to dry.
Remove the pit from the dates (unless they are already pitted)
Measure out all of your ingredients using the recipe above.
Wash your hands!
Place oats in a food processor. Pulse a few times until the oats are broken down. Add dates and almond butter. Pulse again until coarsely blended. Add dark chocolate chips and ½ cup fresh blueberries and blend thoroughly. Scoop batter into a medium mixing bowl.
Slice remaining ¼ cup blueberries into quarters. Gently fold cut blueberries into the batter.
Form into superfood balls about by rolling dough between your palms. Roll the balls in shredded coconut.
Refrigerate in a covered container and eat within 2-3 days.
Wash your hands!
Notes
Tips For Cooking with Kids
Children should be closely supervised when working with kitchen appliances, such as a food processor. Teach your children how to use it and discuss the safety features of the appliance. For example- teach them how to keep the food processor unplugged until it is ready to go. Always unplug it when reaching to take out the blade.
If the dates need to be pitted, please assist your younger children. The pits can be carefully removed with a small paring knife. Simply make a small cut in the date and remove the pit. Please supervise all children if using knifes. For younger children, please have adults make the cut, and encourage your children to remove the pits with their hands.
Optional Substitutions:
Old Fashioned Oats or Rolled Oats work best in this recipe
Substitute any nut butter of your choice for the almond butter
Substitute the dark chocolate chips with any other chocolate chips you have on hand.
The unsweetened coconut is optional. These will still taste great without it
Did You Know?
Dates can be used in recipes as a way to add sweetened without all the added sugar. Dates also provide fiber and help create a sticky consistency for these delicious Blueberry Power Superfood Bites!
Find this recipe and so many more from our friends at Chilean Fruit