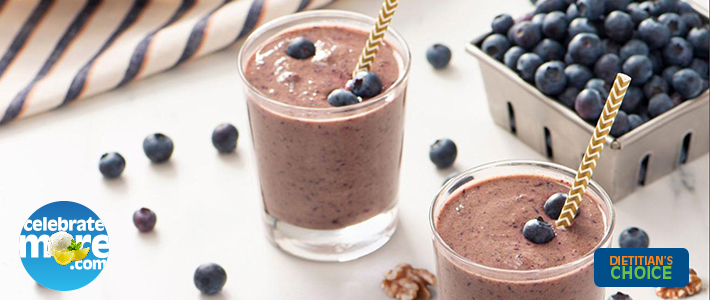 Blueberry Walnut Pomegranate Smoothie
We can't think of a smoother way to fill your day with more fruits and veggies! This 6 Ingredient Blueberry Walnut Pomegranate Smoothie blends the sweet-tart flavors of blueberry and pomegranate for a refreshing treat. Even better, it has all the health benefits of spinach and walnuts wrapped up in one bold, fruity package.
Ingredients
2 Cups Baby Spinach, loosely packed
1 Cup Fresh or Frozen Blueberries, rinsed
1 Cup Low-fat Plain Greek Yogurt
1 Cup Pomegranate Juice
1 Cup Ice Cubes
2 Tbsp. Chia Seeds
1/4 Cup Walnuts
Instructions
In a blender, purée spinach, blueberries, yogurt, juice, ice cubes, chia seeds and walnuts until smooth.
Divide smoothie between 2 glasses.
If the smoothie is too thick, stir in 1 or 2 tablespoons of water.