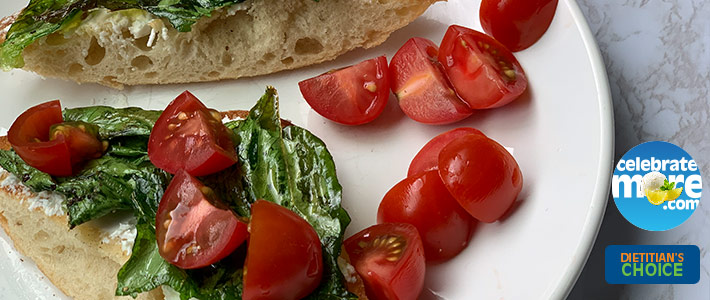 Braised Summertime Romaine Crostini
Ingredients
4 Dole Romaine lettuce leaves, washed and dried
4 slices Ciabatta bread
4 T goat cheese
Cracked black pepper
Extra virgin oil
Instructions
Cover bottom of skillet in olive oil. Set burner to medium high. When oil is heated, place romaine leaves on skillet and apply pressure to the stalks (not leafy areas) so they get maximum contact. Do this for a couple minutes then flip the leaves, salt and pepper generously, cover skillet and let cook 2 more minutes.
Cook uncovered for last minute and remove from heat when browned to perfection. Place on paper towels to absorb excess oil.
Place Ciabatta bread slices in the hot skillet for 30 seconds to toast. Remove.
Spread goat cheese across the bread and fold one romaine leaf in half and place it on top (stalk side down).