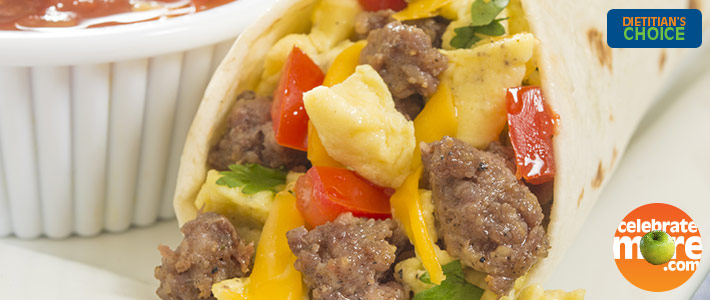 Ingredients
1 Lb. 93% Lean Ground Beef Or Turkey, cooked
10 Eggs, scrambled
Salt & Pepper, to taste
1 Onion, diced
3 Bell Peppers, diced
4 Cups Baby Spinach, chopped
3/4 Cup No-Salt Added or Low Sodium Canned Black Beans, drained and rinsed
3/4 Cup Shredded Cheddar Cheese
10 100% Whole Grain Tortillas
Low Sodium Salsa (optional)
Plain Greek Yogurt (optional)
Avocado Slices (optional)
Instructions
Preheat oven to 350ºF. Grease 9"x13" pan with olive oil, set aside.
In a medium bowl, whisk eggs together with salt and pepper.
In a medium skillet over medium heat, add 1/2 Tbsp olive oil. Add eggs and scramble.
In a separate skillet, over medium heat, add 1 Tbsp olive oil. Add onion and bell peppers, cook for 5-7 minutes or until soft.
Add spinach and cover skillet until wilted. Set aside.
Evenly fill tortillas with meat, eggs, veggies, beans and cheese along with any other desired toppings.
Fold ingredients into tortilla, like a burrito.
Add wrapped burritos to pan and bake for 8 minutes.
Notes
To make freezer friendly: Take burritos and wrap individually in parchment paper and the foil. Place in freezer. To re-heat frozen burritos, remove foil and place in microwave for 1-3 minutes.