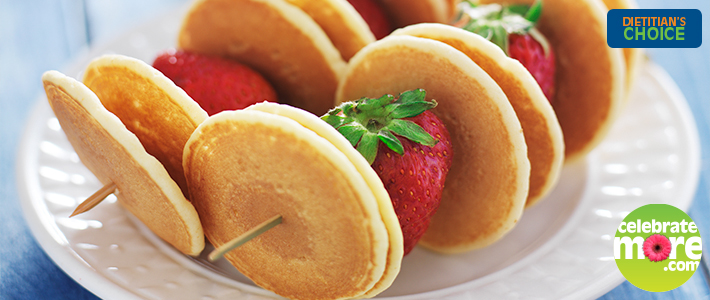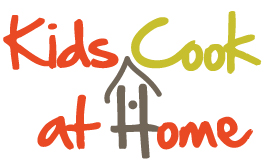 Recipe Difficulty: Medium
Oven: No
Stovetop: Yes
Knife: No
These Breakfast Skewers are perfect for those mornings when you have a bit more time to be creative in the kitchen. You can also keep the leftover pancakes you make in the freezer and pop them in the toaster to cook them up for a quick breakfast another day. These are also fun for a snack, or an evening where you and your family cook up breakfast for dinner. 
Supplies Needed
- Mixing Bowl
- 2 Spatulas (one for mixing, and one for flipping pancakes)
- Measuring Cups
- Measuring Spoons
- Medium Pan
- Spoon or small scoop
- Skewers or toothpicks
Ingredients
Pancake Mix (of your choice)
- Milk, Water, Eggs, and/or Oil may be needed
Fruit (of your choice)
- Fresh, Frozen, or Canned Fruit
Instructions
Wash your hands! (For at least 20 seconds)
Grab your box of pancake mix, and gather the ingredients needed to make the pancakes.
Make the pancake batter according to package instructions.
Wash your hands! (For at least 20 seconds)
Once your batter is made, wash you fruit (if fresh!) under running water. If using canned fruit, or frozen, you do not need to wash them. Set the fruit aside.
Wash your hands! (For at least 20 seconds)
With the help of an adult, spray a medium-size pan with non-stick spray. Then heat the pan over the stove on medium/low heat. Always remember to stay at least a "spatula length" away from the stove. [If a child is assisting in this portion, please have them stand on a stool to ensure they are at a comfortable height to help cook the pancakes]
Using a small scoop or a spoon, make mini pancakes in the pan. Be ready to turn when bubbles start to appear on the top of the pancakes. They will only take a minute or two per side. Flip over half way through and cook until lightly golden brown. Then transfer to a plate.
Continue to cook your pancakes until the batter is gone. Be sure to turn off the stove when you are done.
Wash your hands! (For at least 20 seconds)
Time to assemble the breakfast skewers! Take a wooden skewer (or a toothpick works great, too!) and add your pancakes and fruit. You can make any pattern you'd like. Enjoy!
Notes
Optional Substitutions:
Don't have pancake mix on hand? You can always use peanut butter toast cut into squares, or you can also try frozen waffles or pancakes- just heat them up and add your fruit. 
Fresh fruit is a great option, but canned fruit (in 100% juice) and frozen fruit (no sugar added) is a great option, too. Look for canned fruit that is in larger pieces that will hold on the skewer/toothpick. Let frozen fruit thaw before using. 
If you don't have skewers or toothpicks, you can always make "sandwiches" using these same ingredients. Just put the fruit between the pancakes!
Safety Note:
Adults should always supervise children in the kitchen, especially when using knifes and larger kitchen appliances. Please use your best judgement based on your child's skillset to determine which steps in the recipe they will need additional assistance with.