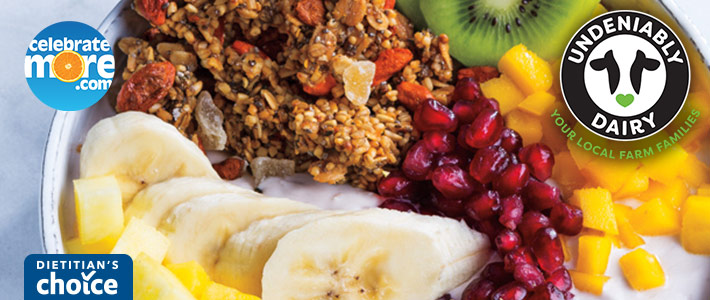 Blueberry-Infused Yogurt & Fresh Fruit Brekkie Bowl
Ingredients
Homemade Granola
1 1/2 C. Clearly Organic Steel-Cut Oats
1 1/2 C. Food Club Rolled Oats
1/2 C. Shelled Hemp Hearts
1/4 C. Clearly Organic Chia Seeds
1/2 tsp. Four Brothers Ground Cinnamon
1/2 tsp. Salt
3/4 C. Four Brothers Honey
1/2 C. Food Club Unsweetened applesauce
1/4 C. Food Club Canola oil
2 tsp. Food Club Vanilla Extract
1/2 C. Dried Goji Berries
1/4 C. Crystallized Ginger, finely chopped
Blueberry-Infused Yogurt
2 C. Food Club Plain Fat-Free Greek Yogurt
1/3 C. Fresh Blueberries
2 Tbsp. Four Brothers Honey
1/2 C. Food Club Unsweetened Coconut Flakes, toasted
Toppings
2 Kiwis, sliced
1 1/2 Large Bananas, tossed with lime juice
1 Mango, diced
1/2 C. Diced Pineapple
1/2 C. Pomegranate Arils
1/2 C. Roasted, shelled pistachios.
Instructions
Prepare Granola (or use your favorite store-brand granola if you'd like!)
Preheat oven to 300°; line large rimmed baking pan with parchment paper. In medium bowl, toss steel-cut and thick rolled oats, hemp seeds, chia seeds, cinnamon and salt. In small bowl, stir honey, applesauce, coconut oil and vanilla extract. Stir honey mixture into oat mixture.
Spread oat mixture on prepared pan; bake 20 minutes. Stir oat mixture; bake 20 minutes. Stir oat mixture; bake 15 minutes. Stir in goji berries and crystallized ginger. Shape oat mixture into about a 12-inch square; bake 10 minutes longer.
Press down on granola with spatula; cool in pan on wire rack 2 hours. Break granola into clusters. Store in an airtight container up to 2 weeks.
Prepare Blueberry-Infused Yogurt:
In medium bowl mash blueberries and add in additional ingredients; cover and refrigerate at least 2 hours or overnight to allow flavors to meld.
Ready to Serve
Evenly divide Blueberry-Infused Yogurt into 6 serving bowls; top with about ¾ cup granola. Evenly arrange kiwi, bananas, mango, pineapple, pomegranate arils and pistachios over each bowl.
Notes
Don't have the time to make your own granola? You can enjoy all the flavors by using your favorite store-bought granola! 
Chef Tip: To toast coconut: Spread coconut on parchment-lined rimmed baking pan; toast at 300° for 15 minutes or until light golden brown, stirring every 5 minutes.
This Blueberry Infused Yogurt & Fresh Fruit Brekkie Bowl is an incredibly tasty and nutritious way to start your day! Our dietitian's are adding new recipes all the time, so check out our Dietitians Choice Recipes page for all their latest recipes!
Shop from the comfort of your home! You can shop online at any of our proud family of stores for these recipe ingredients as well as the rest of your grocery list! We offer curbside pick up at all locations and delivery in select locations as well. Don't forget to connect your MORE Rewards account when you shop online for extra savings, digital coupons, and many other rewards too!