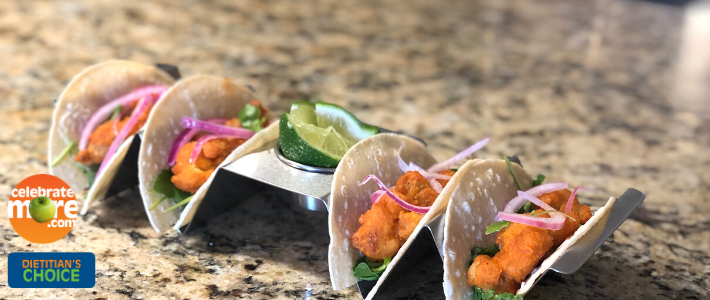 Buffalo Cauliflower Nachos
Ingredients
1 Box Wholly Veggie! Buffalo Cauliflower Wings
1 Red Onion, thinly sliced
1/2 Cup White Vinegar
1/2 Cup Water
2 Tbsp. White Sugar
1 1/2 tsp Salt
1 Cup Arugula
1 Lime, juiced
1 Tbsp. Honey
Instructions
Preheat the oven to 425°F.
Prepare buffalo wings according to package instructions (25 minutes at 425°F).
While the wings are cooking, prepare pickled red onions by combining sliced onion, vinegar, water, sugar, and salt in a medium bowl. Let sit for 25 minutes.
Next, in a small bowl, combine arugula, lime juice and honey. Toss to coat evenly.
Once cauliflower wings are crispy, toss with buffalo sauce (included in box).
Assemble tacos by layering arugula, cauliflower wings, and pickled onions. Serve immediately.
Notes
A quick and easy meal with the help of some short cuts! Take advantage of frozen items, such as Wholly Veggie! Wings, which can save you time but add great flavor and nutrition to your family meal.