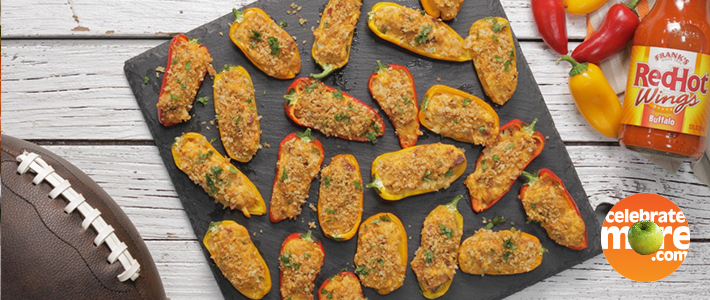 Buffalo Chicken Mini Pepper Poppers
Ingredients
Nonstick cooking spray
4 Slices Thick-Cut Four Brothers Smoked Bacon, chopped
½ Cup Panko Breadcrumbs
½ tsp. Garlic Powder
½ (8 Oz.) Package Cream Cheese, softened
¾ Cup Rotisserie Chicken Meat, skinless & shredded
¼ Cup Crumbled Blue Cheese
¼ Cup Frank's RedHot® Buffalo Wings Sauce
3 Tbsp. Buttermilk Ranch Dressing
12 Tri-Color Mini Peppers, halved lengthwise
1 Tbsp. Fresh Cilantro, chopped
Instructions
Preheat oven to 400°F; spray rimmed baking pan with cooking spray. In large skillet, cook bacon over medium-high heat 5 minutes or until crisp, stirring occasionally; with slotted spoon, transfer to paper towel-lined plate.
In same skillet with drippings, cook breadcrumbs 2 minutes or until lightly toasted, stirring frequently; remove from heat and stir in garlic powder.
In medium bowl, stir cream cheese, chicken, blue cheese, hot sauce, dressing and bacon; transfer to small zip-top plastic bag and snip bottom corner with kitchen scissors. Place pepper halves in single layer on prepared pan; fill with cheese mixture and sprinkle with breadcrumb mixture.
Bake peppers 15 minutes or until crisp-tender and heated through; serve sprinkled with cilantro. Makes 24 peppers.
Percent Daily Values are based on a 2,000 calorie diet. Your daily values may be higher or lower depending on your calorie needs.