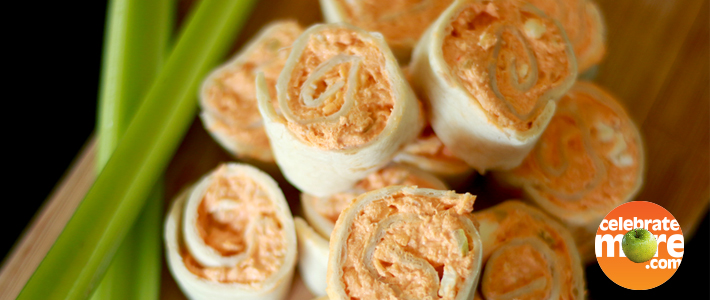 Buffalo Chicken Pinwheels
Ingredients
8 Oz Cream Cheese, softened
2 Tbsp Sour Cream
3/4 Cup Frank's Red Hot
2 Cups Shredded Chicken
3/4 Cup Sharp Cheddar Cheese, shredded
1/4 Cup Monterey Jack Cheese, shredded
1/4 Cup Blue Cheese Crumbles
1/4 Cup Celery, finely diced
5 Flour Tortillas, 8 inch, room temperature
Instructions
Mix together cream cheese, sour cream, and hot sauce until smooth.
Add, chicken, cheeses and celery. Mix until combined.
Spread about 1/3 to 1/2 cup on a flour tortilla in a smooth layer. Stop about 1/2 inch from the edges.
Roll up fairly tightly (you want it to stay put, but not press out all of the filling as you roll). The first one is usually a practice one. Like making the first pancake!
After you get them all rolled, wrap them individually in plastic wrap and refrigerate for 1-2 hours.
Notes
Before Serving:
Unwrap the rolls. Using a sharp serrated knife, cut each roll in 1/2 inch segments.
Arrange on a platter and set out shortly before your guests arrive. I usually put out half of them, then when they are running low, bring out the other half.